News
J-WAFS announces 2023 Travel Grantees to attend UNC Water & Health Conference
Four outstanding MIT graduate students will receive funding to attend the water conference in North Carolina this October.
Orla Molloy September 14, 2023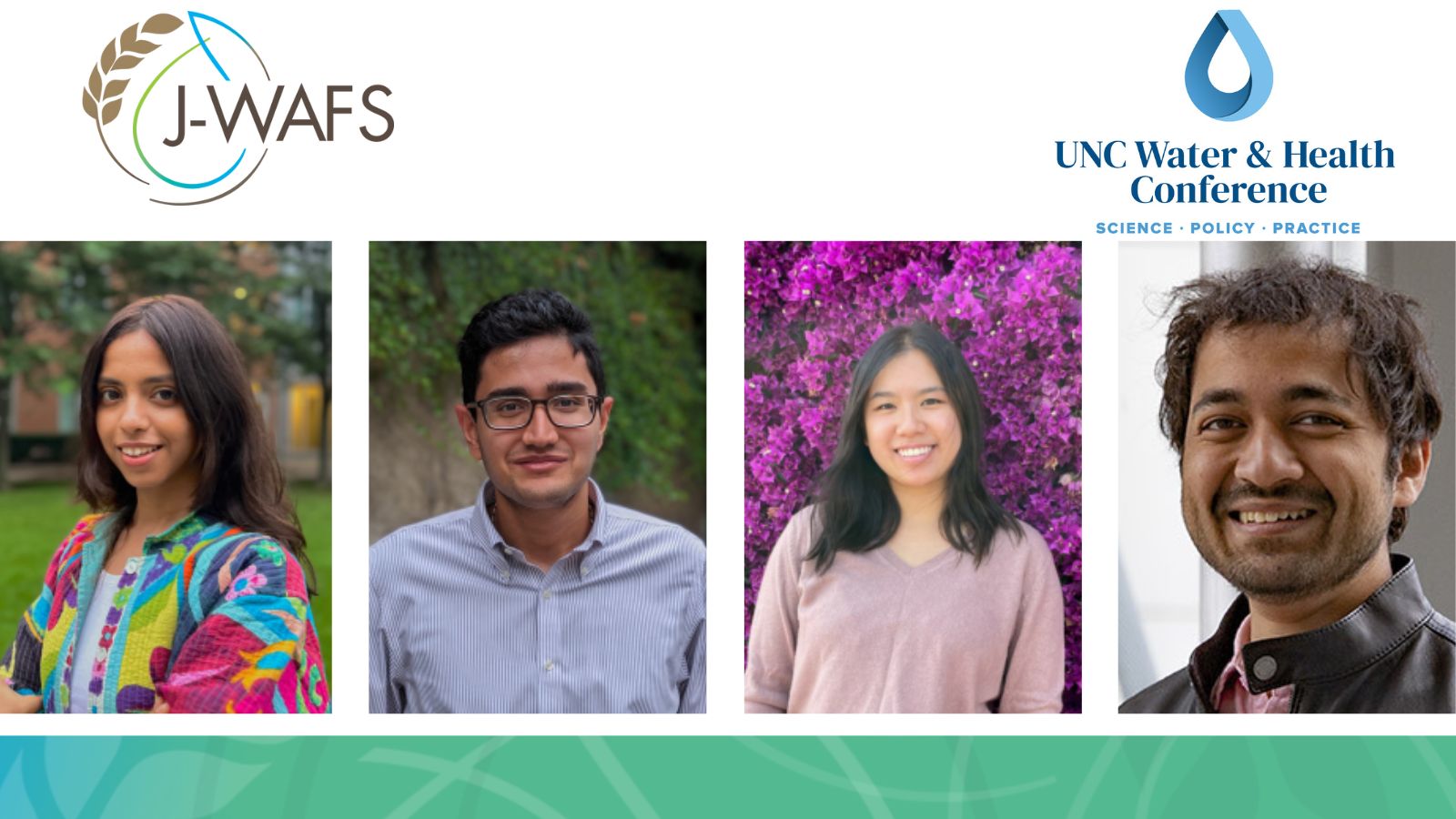 J-WAFS offers travel grants for MIT graduate students to attend major upcoming water sector conferences like Stockholm World Water Week and the UNC Water & Health Conference. Today, J-WAFS is happy to announce that four outstanding students were selected to receive funding to attend the UNC Water & Health Conference this October:
• Anushka Shahdadpuri, Master's student in the Department of Urban
Studies and Planning and Institute for Data Systems and Society
• Barathkumar Baskaran, PhD candidate in the Department of Chemical Engineering
• Catherine Lu, Master's student in the Department of Civil and Environmental Engineering
• Devashish Gokhale, PhD student in the Department of Chemical Engineering
The UNC Water and Health Conference is held annually and serves as a curated space for policymakers, practitioners, and researchers to convene and assess available data, scrutinize scientific findings, and enhance new and existing strategies for expanding access to and provision of WaSH services.
As Travel Grantees, students are expected to attend sessions and panels of interest and network with professionals and others in the water industry.
The J-WAFS Travel Grant for Water Conferences is supported by Xylem Inc. and GoAigua, both of which are J-WAFS Research Affiliates and water technology companies.
Learn more about each of the 2023 grantees below.
Anushka Shahdadpuri
Anushka is the founder of Aamchi, a community-led organization in India dedicated to addressing Water, Sanitation, and Hygiene (WASH) issues in informal settlements. Aamchi employs a dual approach with both IoT-enabled rainwater harvesting technology, as well as waterless technology based on hydrothermal carbonization. Anushka was recently honored with the Meta The World Around Young Climate Prize's "25 Under 25." Her work has been featured in exhibitions, including the Solomon R. Guggenheim Museum in New York, the Copenhagen Film Festival in Copenhagen, and the For Cities Exhibition in Tokyo and Kyoto.
Barathkumar Baskaran
Barathkumar works to design filters to electrochemically treat drinking water. His focus is designing a more capable and energy-efficient system to treat N-nitrosodimethylamine (NDMA), a contaminant of concern as a disinfection by-product and as a Superfund site contaminant. He is a trainee under the MIT Superfund Research Program, which brings together researchers in multiple areas such as toxicology, environmental engineering, and chemistry to develop a holistic understanding of NDMA's impacts and potential remediation approaches.
Catherine Lu
Catherine is studying environmental engineering with a particular interest in hydrology and water resources. Currently, she is working with Professor Dara Entekhabi on modeling and predicting droughts in Africa using satellite Soil Moisture Active Passive (SMAP) data. Specifically, she is working on modeling the frequency and intensity of agricultural droughts in Angola. As an undergraduate, she majored in environmental engineering with a minor in computer science at MIT, where she developed an interest in water resources and systems, habitat restoration, and environmental justice.
Devashish Gokhale
As a researcher in Pat Doyle's group in Chemical Engineering, Devashish is developing sustainable and reusable materials for water treatment, with a focus on eliminating emerging contaminants and other micropollutants from water through cost-effective processes. Devashish received a bachelor's degree in chemical engineering from the Indian Institute of Technology Madras, where he researched fluid flow in energy-efficient pumps. A member of the leadership team of the MIT Water Club, Devashish is passionate about sustainability and sustainable development.