A Letter from Our Director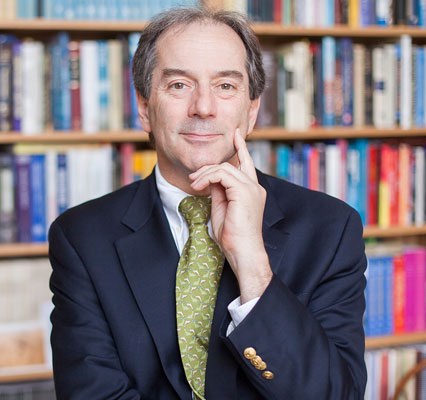 John H. Lienhard V, Abdul Latif Jameel Professor of Water and Mechanical Engineering, and Director, Abdul Latif Jameel Water and Food Systems Lab 
Credit: B. Bocko, MIT
During the past decade I have traveled quite a lot as part of my work for MIT. I have been to more than 30 countries on six continents. People often ask me what is different between these countries. However, what's more striking to me is how much is the same. Everywhere I go, people love their children, and they hope for good relations with their neighbors. People work to provide for their families; they eat food and drink water. These last two—food and water—are obvious, yet people's access to healthy and abundant supplies of each varies dramatically, and is not guaranteed.
When there were small numbers of people on Earth, food, water, and other resources seemed abundant, and the pollutants we produced—smoke from fires or human waste—were easily dispersed into the environment. As our societies have advanced, our demand for resources has soared; energy, water, and food consumption have grown even faster than our population. All the while, our growing demand for resources has challenged the health and resilience of the very environment that sustains our capacity to access and produce clean water and healthy food. The evidence of this strain is all around us. Now, individuals, municipalities, and entire countries are experiencing water and food systems challenges: insufficient or contaminated drinking water supplies; climate change-induced drought or flooding events that diminish yields or destroy crops; inaccessible or energy-intensive fertilizers; and more. These and many other challenges are intensified by our rising populations, increased urbanization, and—especially—by the global climate crisis.
These are difficult problems. However, we can solve these problems if we work together.
This belief is central to my work as a researcher and educator. This belief is also central to the work of the Abdul Latif Jameel Water and Food Systems at MIT (J-WAFS). J-WAFS leverages MIT's world-class resources and expertise to tackle the myriad challenges facing humankind's most essential needs. With diverse funding from our founding sponsor and other donors and partners, we support early-stage research grants, commercialization efforts, student funding and mentorship, and international expert workshops on research and policy. J-WAFS promotes excellence in our funded research through processes including peer-review and public communication. We receive far more proposals from the MIT community that we can fund, and so we rely on expert reviews to ensure that we select the strongest ideas from an already first-rate pool of candidates. We actively monitor the research we support, and our PIs present their research to an audience of peers annually. The bulk of J-WAFS's research goes on to extramural peer-review and archival publication. As a result of these mechanisms, we believe that the research J-WAFS funds is rigorous, repeatable, and impactful. Ultimately, our aim is to expand the knowledge and innovation that delivers safe and sufficient supplies of water and food for our changing world.
Since our founding in 2014 we have funded more than 100 projects involving more than 300 researchers across all five of MIT's schools and 40 of its departments, labs, and centers. The research that we support covers topics as varied as: biological science and crop engineering; novel fertilizers and soil sensors; innovative water filters and energy-efficient advances in desalination; qualitative and quantitative research to inform water, food, and agriculture policy and practice; supply chain interventions and food safety solutions; and much more. J-WAFS-funded research projects have brought in more than $19 million in follow-on funds. Our projects have resulted in start-up companies, open-sourced technologies, and countless publications and presentations. Our work has appeared at renowned conferences and individual stakeholder gatherings, and it has touched individuals and thought-leaders around the world. Still, much more work remains to be done.
While the challenges facing today's water and food systems are great, I know that they can be solved, and that they will be solved if we work together. What is required is an understanding of what the challenges are, acknowledgement of the dangers ahead and a willingness to act, agreement to look at problems scientifically, and a passionate commitment to future generations. I hope you will join me, and J-WAFS, and the MIT research community in building solutions that will ensure the future resilience of humankind's most vital resources: water and food.