Student Innovation Prizes
Supporting the next generation of water and food systems industry leaders through startup competitions that fuel students' water and food sector commercialization efforts at MIT and beyond.
The MIT Water Innovation Prize is a startup competition focused on water innovation that awards up to $50K in innovation grants annually to student-led teams from across the country and internationally. The prize started in 2015 and has since awarded $225K across 21 winning teams.​

This competition is the main innovation-focused event of MIT Water Club. The goal of the prize is to help emerging entrepreneurs translate research and ideas into businesses, access mentors and resources, and build networks in the water industry. All approaches to water innovation are welcome, from engineering and product design to policy and data analytics.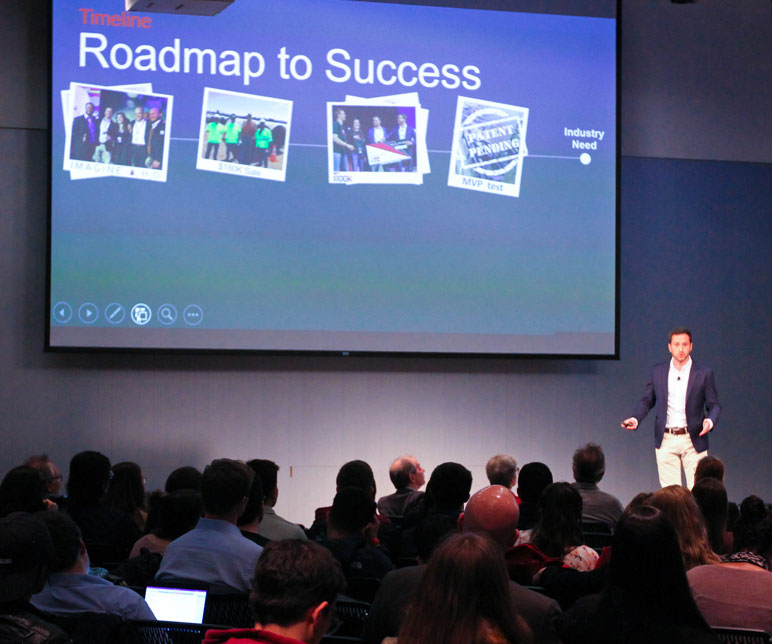 Student-led finalist teams from around the country and increasingly, the world, pitch their water-related innovations at a ceremony with industry-leading corporations and investors.
Credit: Andi Sutton, J-WAFS
---
The Rabobank-MIT Food & Agribusiness Innovation Prize, sponsored by Rabobank, supported by J-WAFS, and organized by the MIT Food and Agriculture Club, is a premier business-plan competition for university and graduate students. This prize is distinct from other competitions because of its specific focus on food and agribusiness and the access it will provide successful entrants to the broad business community. The prize competition started in 2016.
The competition takes place in two stages: an application round where students submit startup ideas and a pitch competition for a select group of finalist teams. To prepare for the final pitch night, finalists are paired with industry mentors who help teams refine their ideas. Mentors are leading experts in industry and academia, with experience relevant to finalist submissions. Finalist teams compete to win $30,000 in total prize money.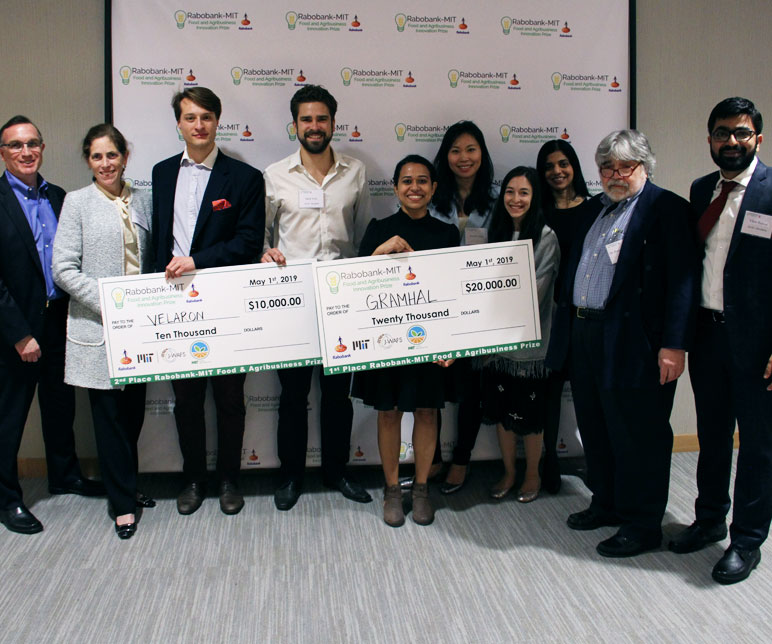 A team that helps small-scale farmers in India increase their profits and another looking to create an international trading marketplace for shrimp took home prizes at the 2019 Rabobank-MIT Food and Agribusiness Innovation Prize pitch night.
Credit: Andi Sutton, J-WAFS