About J-WAFS' Founding
Learn more about the founding of the Abdul Latif Jameel Water and Food Systems Lab and our growth since 2014
The Abdul Latif Jameel Water and Food Systems Lab was founded in 2014 through a generous gift provided by Community Jameel, an independent, global organization advancing science to help communities thrive in a rapidly changing world. The lab was named in honor of the late Abdul Latif Jameel, the founder of Abdul Latif Jameel and father of MIT alumnus and founder and chairman of Community Jameel, Mohammed Jameel '78 KBE. In 2015, Community Jameel provided additional funding to J-WAFS to launch the J-WAFS Solutions Program which supports the commercialization of MIT food and water technologies.
Community Jameel has collaborated with MIT on several initiatives addressing the most significant problems facing mankind. Community Jameel has supported the Abdul Latif Jameel Poverty Action Lab (J-PAL) at MIT since 2005 and co-founded (with MIT) the Abdul Latif Jameel World Education Lab (J-WEL, in 2017) and the Abdul Latif Jameel Clinic for Machine Learning in Health (J-Clinic, in 2018).
Commenting on the establishment of J-WAFS at MIT, Fady Jameel, Vice Chairman of Community Jameel noted, "With rising populations, climate change, and urbanization, we need to start taking action now to meet the world's future needs for food and water. Access to clean water and better management of water resources can boost countries' economic growth and can contribute greatly to poverty reduction. Through J-WAFS, we aim to support the development and deployment of technologies, policies, and programs which will contribute to help humankind adapt to a rapidly changing planet and combat water scarcity and food supply at a global scale."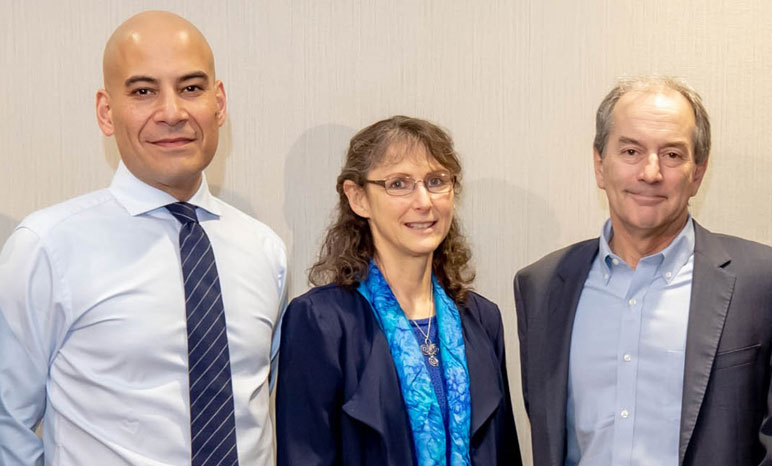 Fady Jameel, Vice Chairman, Community Jameel (left), Renee Robins, executive director of J-WAFS (center), and John Lienhard, Abdul Latif Jameel Professor of Water and Mechanical Engineering and director of J-WAFS (right).
Jameel 75
Reflecting on our relationship with Community Jameel, J-WAFS director John H. Lienhard V reflects on the founding conversations that led to the developments of J-WAFS and the ongoing relationship with our benefactor Abdul Latif Jameel.
Why Systems?
The term "systems" implies complexity and interdisciplinarity. Applied to the water and food sectors, it casts a wide net that encompasses infrastructure analysis, economic development strategies, policy, and human behavior as well as the innovations in science and technology that lead to new products and improved processes that will make our water and food systems safe, secure, and sustainable. Furthermore, the comprehensive approach that a systems perspective enables takes into account social, political, and environmental contexts, as well as the human resources that are involved in our water and food systems at every level.
Our projects emerge out of numerous academic disciplines at MIT, as diverse as mechanical engineering, chemistry, and anthropology. J-WAFS' engagement with a wide range of MIT departments, labs, and centers enables us to address all aspects of the world's water and food systems. J-WAFS-funded research is driving improvements in:
Water safety and supply;
Food safety and supply;
Agricultural technology—food genetics, fertilizers, irrigation, and packaging;
The sustainability of food and water systems—and the adaptation strategies needed to respond to climate change;
The energy efficiency of our water and food systems,
Economic and policy strategies to ensure the resilience of our water and food supplies;
And many more.
The variety of problems we tackle and research approaches we support continues to grow, reflecting the need to broadly engage MIT's diverse research community in order to meet humankind's water and food needs today and in the future. All the while, our goal stays the same: securing humankind's vital resources: WATER and FOOD.