Our Research
Enhancing water affordability for vulnerable urban households in the United States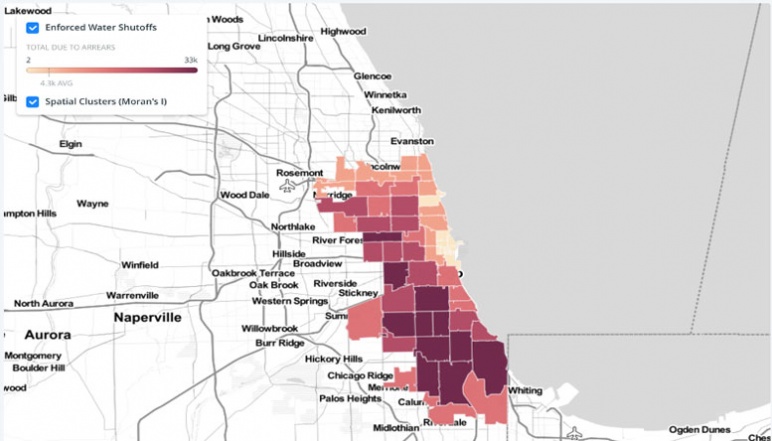 Map of Water Shut-offs Due to Arrears in Chicago (2011-2017) Source: Data from City of Chicago
Challenge:
How can greater household water affordability in U.S. cities be achieved?
Research Strategy
Show for whom and where the water poverty cycle in U.S. cities is most prevalent
Understand the relationship of water shut-offs to water-based housing poverty and foreclosures
Build web-based Dashboard that allows water utilities to explore the comparative costs and benefits of progressive Customer Assistance programs for households in need
Build web-based Dashboard that allows for interactive mapping of water poverty by affected households and the organizations that support them
Project description
Urban households across the United States—and the water departments that serve them—are under tremendous financial pressure to maintain access to safe drinking water. Diminished federal support for water infrastructure investments and stagnant state-level subsidies have resulted in municipal water departments raising water rates. This pattern, which has grown over the last decade, has caused a growing water poverty cycle in cities across the US, where poor urban households experience water shut-offs that often end with home foreclosures. There is a growing water affordability crisis in U.S. cities. Our research seeks both to understand the nature of water poverty in U.S. cities and to examine potential local-level policy responses. Based on an analysis of ten case study cities, we will explore the spatial and demographic character, as well as prevalence, of urban neighborhoods hardest hit by a water poverty cycle that starts with shut-offs, and in some cases, ends with home foreclosures. We will also explore the different types of Customer Assistance Programs that water utilities run to understand how well they reach vulnerable households. Ultimately, we will construct two major online Dashboards: one for municipal water utilities and one for residents and their advocates. These open-access Dashboards will give stakeholders a way to assess where their neighborhood and city stands with regard to water poverty and will help to envision policy alternatives to the water poverty cycle that begins with shut-offs.
Outcomes
Built a productive professional network with twenty different water and sanitation utilities/departments across the U.S., and collected data on water tariff pricing, water shut-off practices, customer assistance enrollment, and payment plan enrollment 
Produced a website and three public-facing videos documenting the state of water affordability research in U.S. cities, exploring promising pilot solutions, and building consensus around next steps for research and policy
Created an open-source computer program to help utilities and community advocates easily create an equity-focused spatial analysis, mapping water shut-offs and customer assistance enrollments, that provides composite insights into the characteristics of neighborhoods where residents need further assistance
Developed two methodological guides for water utilities and other interested stakeholders on how to reproduce the spatial analysis at the intra-urban level, revealing where and which characteristics of households are prevalent among those experiencing water affordability vulnerabilities
News
Additional Details
Impact Areas
Research Themes
Economics, Policy, & Practices
Equity & Access
Year Funded
Grant Type
Status