News
MIT Water Affordability Workshop explores solutions to America's water affordability crisis
Researchers, community advocates, utilities, and federal officials convened to discuss utility management, research, advocacy, and customer assistance innovations to support household water affordability in cities across the United States.
Jay Maddox Enhancing Water Affordability project team June 15, 2022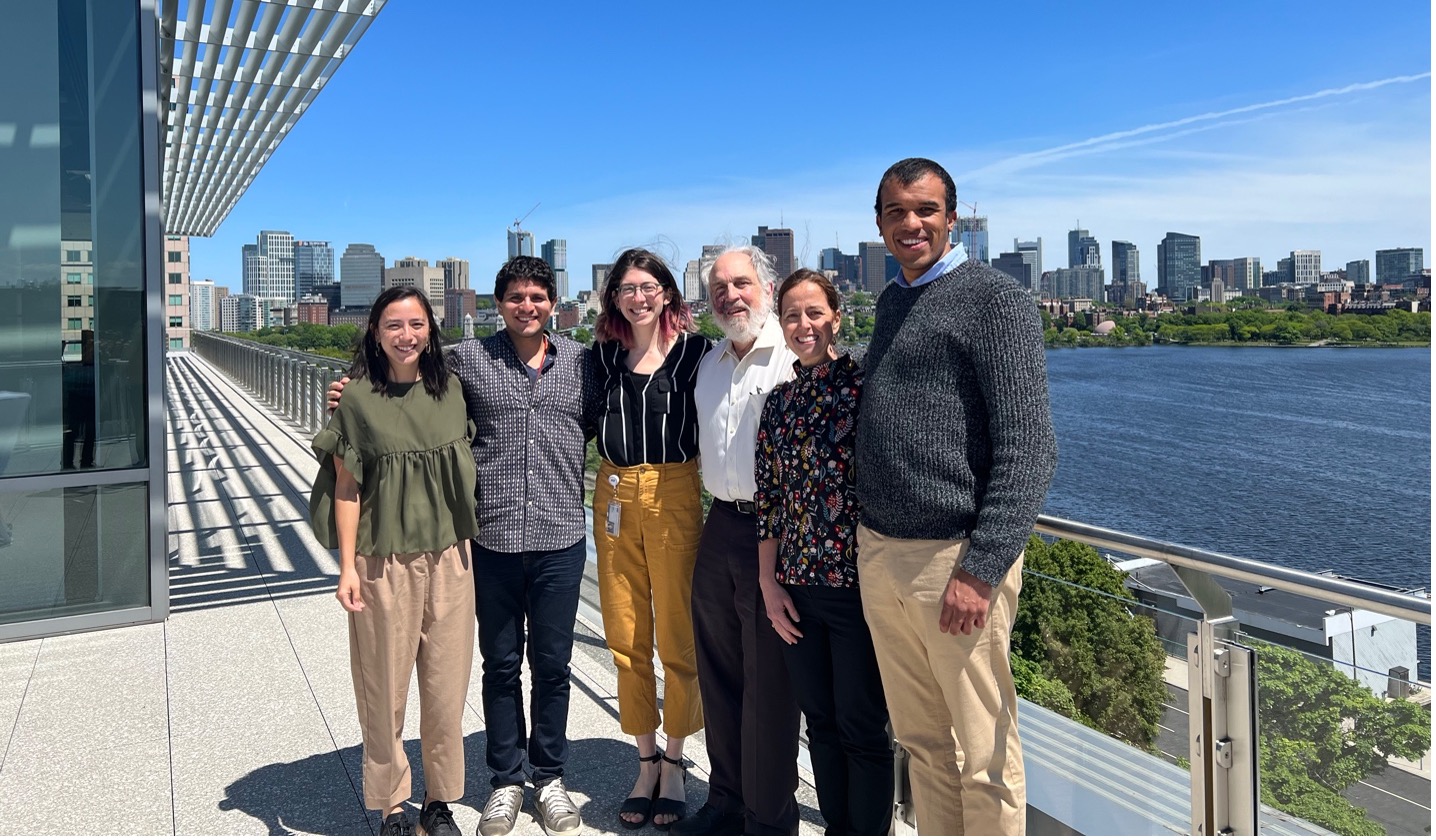 Enhancing Water Affordability project team at the MIT Water Affordability Workshop May 23-24, 2022: (Left to right) Laura Chen BS '22, Flavio Vila Skrzypek MCP '23, Abby Fullem MCP '23, professor Larry Susskind, professor Gabriella Carolini, and Jay Maddox MCP '23
Over the course of two days, Professors Gabriella Carolini and Lawrence Susskind and their research team in the Department of Urban Studies and Planning (DUSP) at MIT convened a diverse group of community advocates, federal officials, and utilities to envision solutions to America's water affordability crisis. Participants at the MIT Water Affordability Workshop on May 23 and 24th shared experiences and practices in utility management, research, advocacy, and customer assistance innovations to support household water affordability in cities across the United States. The MIT Water Affordability Workshop, supported by DUSP and the MIT Abdul Latif Jameel Water and Food Systems Lab, also served as an opportunity to discuss priority policies and reforms needed to generate more equitable policy and program design paths forward for one of the nation's most pressing, if unexpected, crises: that of safe, clean, and affordable household water for all.
For the past two decades, residential water bills in cities have risen significantly, translating into a growing water shut-off crisis for those who cannot pay their water-related bills. This is especially true for some of the poorest urban residents whose incomes have experienced stagnation over a time period when there has also been increased costs of living. More often than not, communities of color are hit hardest, and represent a disproportionate number of households experiencing water shut-offs. Furthermore, in some cities, tax liens are accessed because of unpaid water bills, which, if left unsettled, can result in property repossession. Scholars and industry research estimate that in the wake of COVID-related financial costs and rising inflation, household and utility financial stress will both only get worse.
Compared to the rest of the world, American utilities disproportionally fund their operations through customer receipts and commercial debt. In many older American cities, utilities must also contend with aging infrastructure that pushes up capital expenditures. These factors place utilities in a difficult and tangled situation, summarized by MIT Affordable Water co-lead professor Lawrence Susskind: "Should utilities be banned from using shutoffs and property liens when poor homeowners have no way of paying their bills? What if that leaves them without the funds they need to cover basic operations and maintain and repair of aging systems. If everyone has a right to a minimum amount of water (for free), who is going to pay for that?"
The workshop sought to answer these questions. Several speakers presented on the contours of the water affordability discourse. Professor Gabriella Carolini presented the MIT team's research on the U.S. water affordability challenge's structural origins and how utility customer assistance objectives, eligibility criteria, and operational management matter to how well vulnerable households are supported and whether they fall through the cracks. Carolini noted that to improve the effectiveness of customer assistance, utilities need support to better understand their customers. "Utilities do not—cannot—collect information about their customers, but they do have spatial data about their customer accounts that can be leveraged to begin better understanding residents, building relationships with anchor institutions, and reaching customers in neighborhoods that are suffering most," Carolini said. "This is what our own research is demonstrating—there is a way for utilities, with proper support, to improve their outreach and understand their clients better. However, the design of federal support will be really critical to this effort, particularly if we want to eliminate the practice of shut-offs," she added.
Through qualitative survey work, Alexandra Campbell Ferrari (Center for Water Security and Cooperation) illustrated how fragmented the legal and regulatory framework for water provision is in the United States. Professors Laura Senier and Susan Harlan (Northeastern University) dug into the challenges that municipal officials struggle with in developing customer assistance programs, leaning on extensive interviews with stakeholders within city governments and utilities. Professor Martha F. Davis, also of Northeastern, reflected on data transparency and racial equity in the water sector. Zoe Röller, of the U.S. Water Alliance, presented on the organization's action-oriented research on preventing water shutoffs among low-income households. Susan Crosby (City of Philadelphia Department of Revenue Water Revenue Board) offered a real-world case study in her presentation on Philadelphia's income-based Tiered Assistance Program (TAP).
While the speakers offered compelling insights, the Water Affordability Workshop sought to translate discussion into action. It was crucial that future strategies originated among the participants themselves. To this end, Professors Gabriella Carolini and Lawrence Susskind – co-leads for MIT Affordable Water -- facilitated a consensus-building session to conclude the event. In-person and virtual participants submitted proposals to address common challenges (i.e. "How should utilities distribute customer assistance funds when the goal is to increase equity"), and the group then voted on these proposals through Zoom polls. This process was followed up with healthy debate and discussion on the options that were presented. The group coalesced around several strong suggestions, like seeking city subsidies to offset non-payment from low-income users and allowing these customers to self-attest to their status. Most importantly, the session served as a valuable generative exercise.
"Across this country, there has been a growing strain on working families to cover the costs of water bills and the COVID-19 pandemic has only exacerbated this problem," said Congresswoman Debbie Dingell (MI-12). "Clean water is a fundamental human right and it is time we start treating it as such. I'm thankful to MIT for recognizing how deeply important access to clean, affordable water is, and for bringing together stakeholders to better understand this issue and strategize solutions for our communities. Through partnerships like these, we will be able to achieve water equity in our country once and for all."
In the fall, the MIT Water Affordability team will host another workshop dedicated to sharing technical expertise on leveraging spatial analysis for water affordability research. The goal is to empower utilities and community advocates with the statistical and spatial tools to understand how equitable the provision of water is—and can be—in their communities.
Learn more about the Enhancing Water Affordability project via the links below:
Watch videos from the workshop: