News
J-WAFS to send students to Stockholm World Water Week
Four students received 2022 J-WAFS Travel Grants for Water Conferences, which will fund their travel to Stockholm, Sweden this August to attend the international water event.
Summer Weidman Abdul Latif Jameel Water and Food Systems Lab June 16, 2022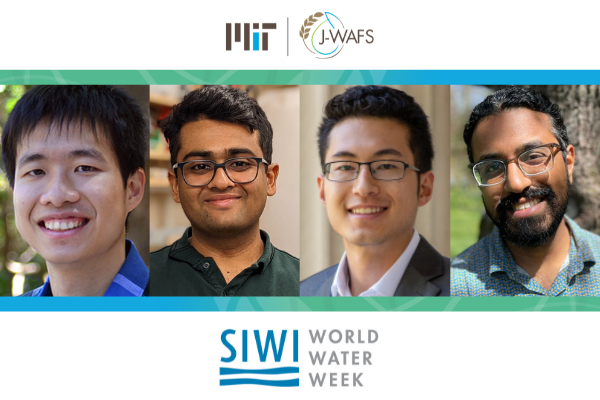 Left to right: Chun Man Chow, Aditya Ghodgaonkar, Jonathan Bessette, and Gokul Sampath
J-WAFS is pleased to announce the winners of this year's J-WAFS Travel Grant for Water Conferences, which supports MIT graduate students' attendance at select international water conferences. The grants provide learning and networking opportunities for MIT students who are pursuing careers in the water sector, whether in academia, non-profits, government, or industry. This year, the grant will support four students to attend Stockholm World Water Week:
Aditya Ghodgaonkar, PhD candidate, Department of Mechanical Engineering
Chun Man Chow, PhD student, Department of Chemical Engineering
Gokul Sampath, PhD student, Department of Urban Studies and Planning
Jonathan Bessette, PhD candidate, Department of Mechanical Engineering
World Water Week is an international water conference where academics, NGOs, industry professionals, and government officials gather to discuss, share research, network, and learn about global water issues. This year's theme is "Seeing the Unseen: The Value of Water," which aims to highlight the multifaceted value of water, draw attention to the unseen water found in aquifers and soils, and stimulate conversations around water pricing, Indigenous knowledge, human rights, and more. Over 200 sessions will be offered covering topics ranging from food security and health to agriculture, technology, biodiversity, and the climate crisis.
The J-WAFS Travel Grant for Water Conferences is supported by Xylem Inc. and GoAigua, both J-WAFS Research Affiliates and water technology companies. Xylem is also a global sponsor of World Water Week, as well as the Stockholm Junior Water Prize, which is awarded during the event. The J-WAFS Travel grantees will be able to attend all programmed events at World Water Week and will be able to participate in additional opportunities to meet with Xylem leaders and participate in Xylem-sponsored side events.
Meet Our Grantees
Aditya Ghodgaonkar is a mechanical engineering PhD candidate in the Global Engineering and Research Lab at MIT, where he advised by professor Amos Winter. Ghodgaonkar is currently designing hydraulic components for drip irrigation that could support the development of water-efficient irrigation systems that are off-grid, inexpensive, and low-maintenance. At World Water Week, he seeks to gain exposure to water challenges outside his research focus to identify areas of cross-pollination and to learn how to use social, financial, and policy considerations to inform effective design solutions.
Chun Man Chow is a PhD student in the Department of Chemical Engineering at MIT. His research focuses on developing novel separation processes for environmental, health, and industrial applications. His current work under professor Rohit Karnik focuses on nanoporous graphene membranes. Chow is also working with the King Climate Action Initiative at the Abdul Latif Jameel Poverty Action Lab (K-CAI, J-PAL) to build out evidence on water pollution and scarcity and to investigate how effective programs can be expanded and scaled up. In Stockholm, he hopes to explore potential career paths and network with water experts to deepen his understanding of how water affects people, nature, economics, and more.
Gokul Sampath is a PhD student studying international development and planning in the Department of Urban Studies and Planning. Gokul uses archival, spatial, and econometric methods to answer distributive questions about who gets access to water, where, when, and how in rural and urban South Asia. He previously worked as a Senior Research Associate at MIT's J-PAL measuring the effectiveness of programs to reduce groundwater consumption in drought-prone areas of western India. Sampath is attending World Water Week to connect with scholars and practitioners who share a motivation to expand and improve water access and quality in the developing world.
Jonathan Bessette is a mechanical engineering PhD candidate in the Global Engineering and Research Lab at MIT and is advised by professor Amos Winter. His research focuses on the design and control of small-scale deployable desalination systems for use in humanitarian emergencies and in remote communities. At World Water Week, Bessette seeks to explore state-of-the-art water research with applications to humanitarian crises and global development, network with water experts, understand the connections between policy and research, and explore industry responses to water challenges.