Our Research Manufacturing and marketing E. coli test kits to promote safely managed drinking water and improved public health in Nepal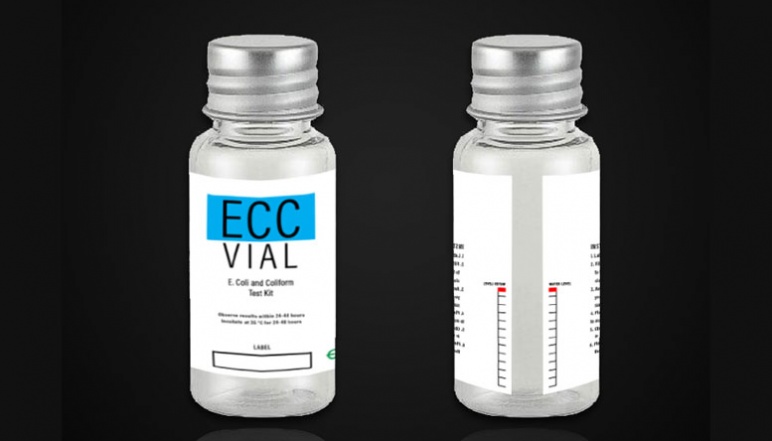 New design for the ECC vial bottle. Image credit: Ravel, Murcott research team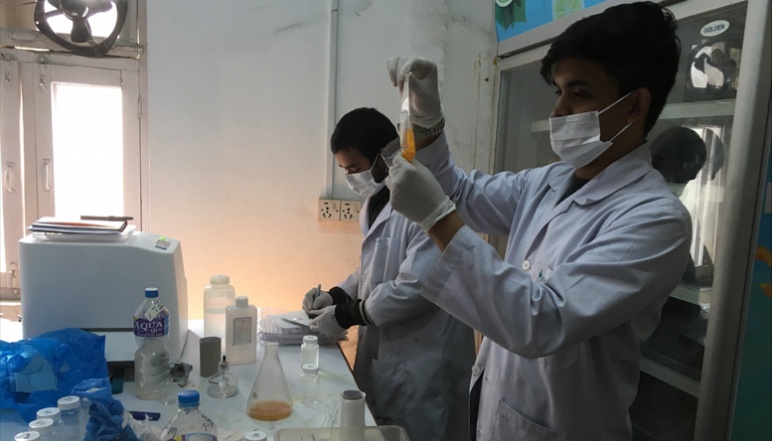 MIT junior, Swochchhandra Shrestha (foreground) and EcoConcern product R&D specialist, Sushil Dahal (background), testing ECC vial product in ENPHO lab Jan. 2019. Photo credit: Ravel, Murcott research team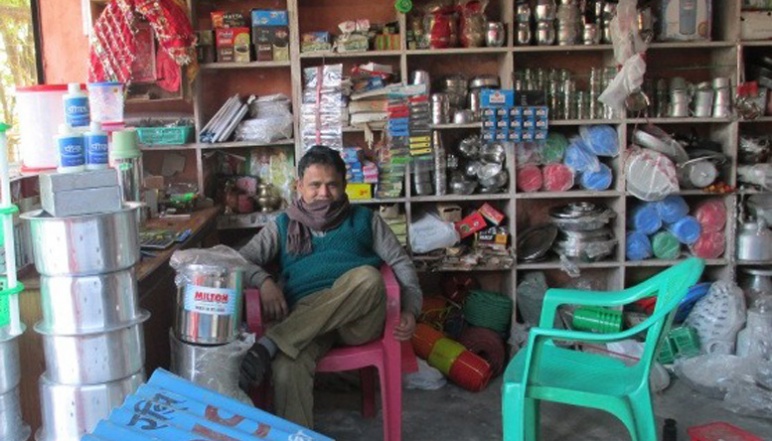 WASH Mart – this is a small market that sells water, sanitation, hygiene products in poor communities. EcoConcern's products are sold in such markets, among others. Photo credit: Ravel, Murcott research team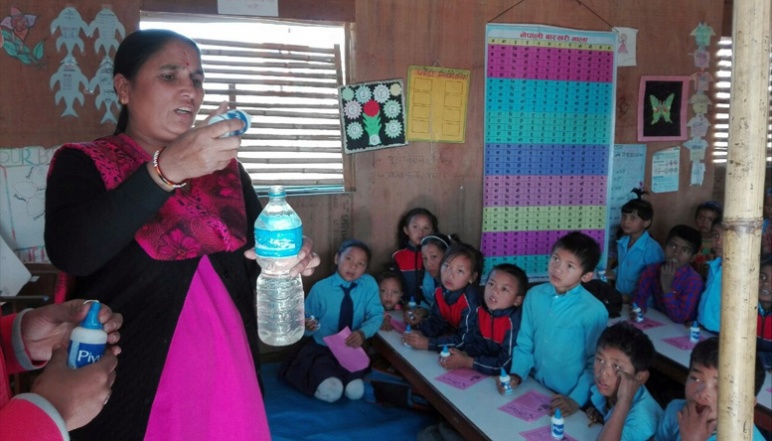 Training in schools about safe water, sanitation, hygiene. Photo credit: Ravel, Murcott research team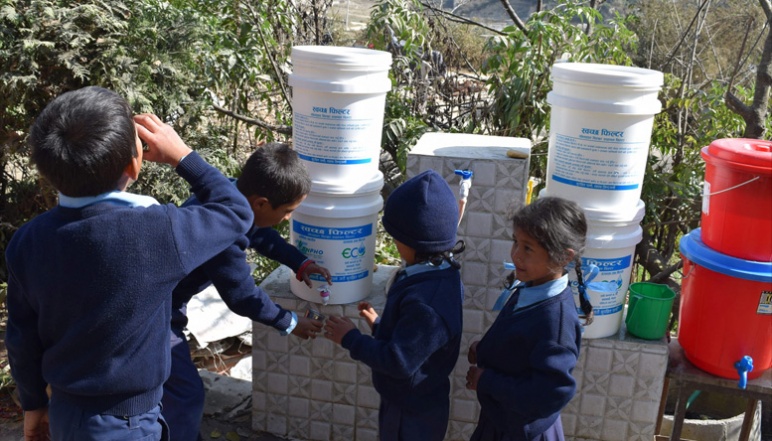 Household water treatment and safe water storage produce providing safe water to kids in Nepal. This is another product of our business partner organization, EcoConcern. Photo credit: Ravel, Murcott research team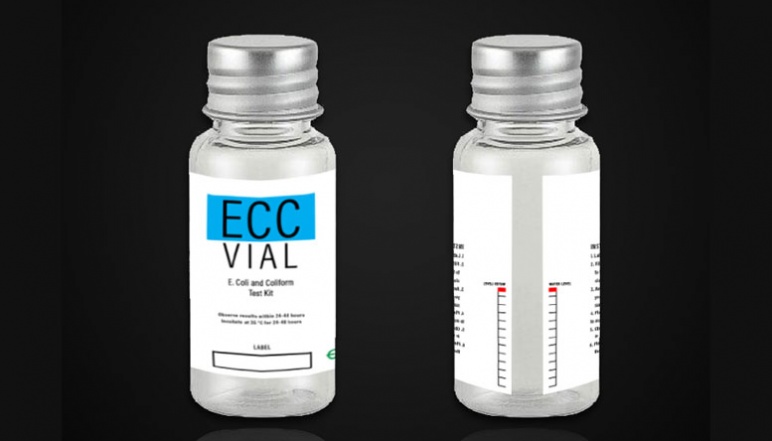 New design for the ECC vial bottle. Image credit: Ravel, Murcott research team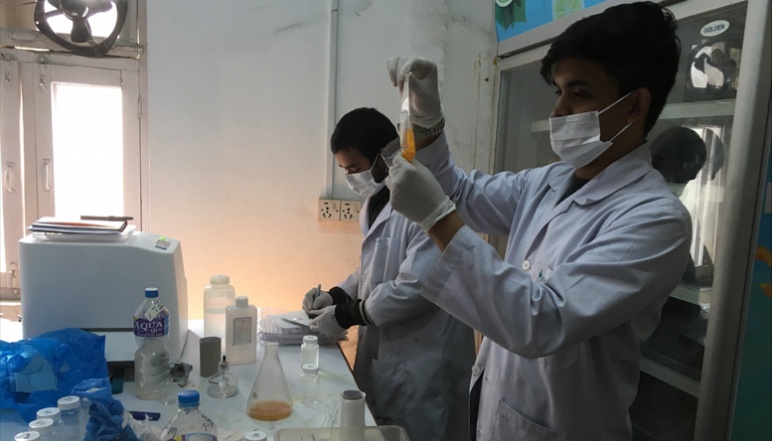 MIT junior, Swochchhandra Shrestha (foreground) and EcoConcern product R&D specialist, Sushil Dahal (background), testing ECC vial product in ENPHO lab Jan. 2019. Photo credit: Ravel, Murcott research team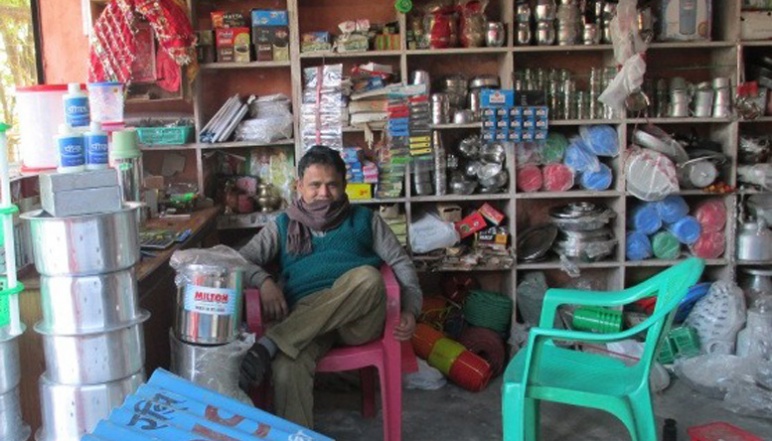 WASH Mart – this is a small market that sells water, sanitation, hygiene products in poor communities. EcoConcern's products are sold in such markets, among others. Photo credit: Ravel, Murcott research team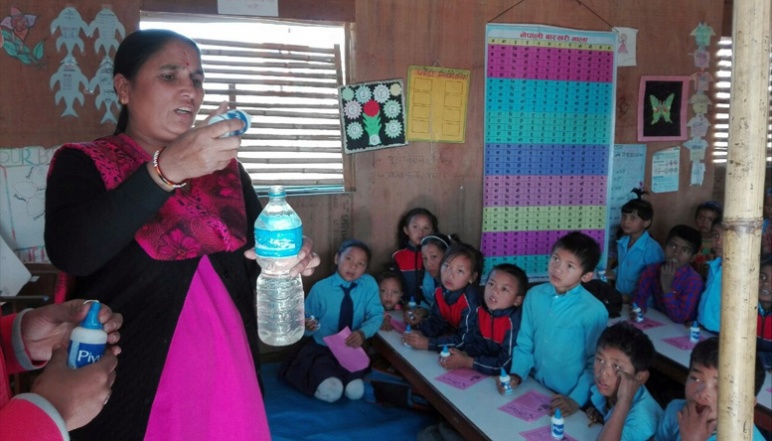 Training in schools about safe water, sanitation, hygiene. Photo credit: Ravel, Murcott research team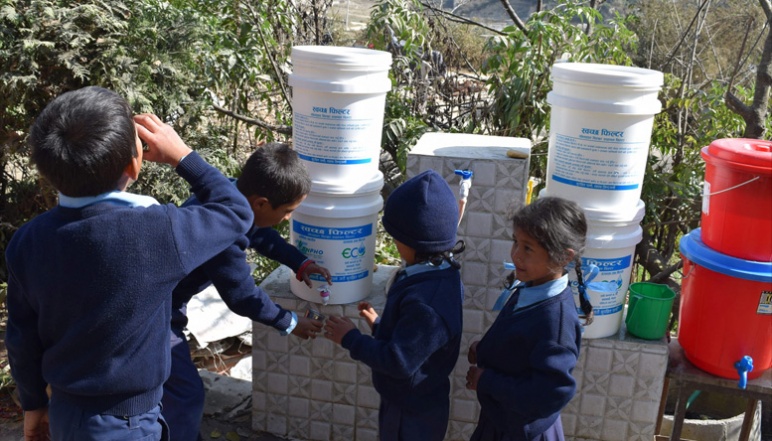 Household water treatment and safe water storage produce providing safe water to kids in Nepal. This is another product of our business partner organization, EcoConcern. Photo credit: Ravel, Murcott research team
Challenge:
We seek a revolution in the water and public health of the 2 to 4 billion people in the world today who lack safely managed drinking water and sanitation.  At least 2 billion people use a drinking water source contaminated with feces; 4.4 billion people lack safely managed sanitation. Water contaminated with human and mammal feces transmits infectious diseases to people, especially children, resulting in sickness and death that is preventable. Escherichia coli (E. coli) bacteria indicate the presence of human or mammal feces in water or food. While most strains of E.coli, common in the human gut, are not harmful, others, such as E. coli O157:H7, cause diarrhea, dehydration, abdominal pain, fever and even death, especially in children. The ECC Vial product we are bringing to market in Nepal in October  2019 tests for the presence of E. coli and coliform; it will be sold for  US$1.
Research Strategy
Finalize a marketing strategy tailored to six different market segments and a distribution strategy to reach all of Nepal's 77 districts
Experiment with three incubation options (body belt, ambient temperature, mini-incubator) and standardize best manufacturing practices and appropriate disposal methods
Seek licenses from the appropriate Nepal government authorities
Apply for approval from the government for production and export of ECC vials from Nepal to other countries. ENPHO/EcoConcern links with J-WAFS/Deshpande partners in the region may help in developing confidence and trust in the ECC vial product
Project description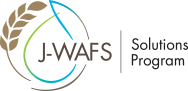 In 2018, the J-WAFS Solutions program supported a collaboration between the MIT-Nepal Initiative, led by Professor Jeffrey Ravel, MIT D-Lab lecturer Susan Murcott, the Nepalese NGO Environment and Public Health Organization (ENPHO) and its business spin-off, EcoConcern. The project sought to refine the design of a wearable water test kit developed by Susan Murcott that provided simple, accessible ways to test the presence of E. coli in drinking water, even in the most remote settings. In that first year of J-WAFS funding, the research team worked with their Nepali partners, ENPHO and EcoConcern, to finalize the design of their product, called the ECC Vial, which with the materials that they've now sourced, can be sold for $1.00 in Nepal – a significantly lower price compared to most other E.coli water testing product on the global markets.
This technology is urgently needed by communities in Nepal where many drinking water supplies are microbially contaminated. Standard testing practices are expensive, require significant laboratory infrastructure, or are just plain inaccessible to the many people exposed to unsafe drinking water. The ECC Vial is intended to be the next generation easy-to-use, portable, low-cost method for E. coli detection in water samples. It is the particularly designed for simplicity and is appropriate for use in remote and low resource settings.
The 2019 renewal grant will support the team together with the same Nepali partners to implement good manufacturing practices for the ECC Vials and refine the marketing strategy in order to ensure that the product that is sold to customers is reliable and that the business model for local purveyors is viable now and into the future. Once the product enters the market this year, the team plans to begin distribution in Bangladesh, and will assess market opportunities in India, , Peru, Ghana where there is a comparable need for a simple and affordable and E.coli indicator testing product for use by government agencies, private water vendors, bottled water firms, international non-profit organizations and low-income populations without access to safe water. We will also pursue the possibility of on-line sales through Amazon.
Outcomes
Manufactured and launched the ECC Vial water test kit that identifies fecal contamination in water samples through detection of the presence of E. coli and coliform
Manufactured ~ 3,200 units and distributed 2,350 units, which is enough to help approximately 12,000 people in Nepal
Developed a financial model, sold 600 units, identified target markets in Nepal, and began outreach to them
Trained local Nepalese on lean/good manufacturing practices
News
Additional Details
Impact Areas
Research Themes
Sensors & Monitoring
Water Resources & Infrastructure
Technology & Commercialization
Economics, Policy, & Practices
Equity & Access
Year Funded
Grant Type
Status