Our Research Waste to Food: Yarrowia lipolytica as protein and lipid production platform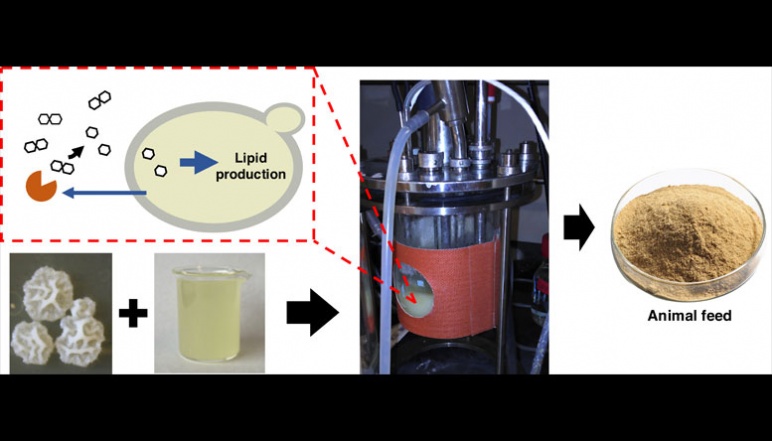 Turning acid whey, a byproduct from Greek yogurt production, into nutritious animal feed using engineered yeast cells in a bioreactor. Image credit: Constantinos Katsimpouras, Stephanopoulos research team
Principal Investigator
Gregory Stephanopoulos
Willard Henry Dow Professor of Biotechnology and Chemical Engineering
Department of Chemical Engineering
Greg Stephanopoulos is the W.H. Dow Professor of Chemical Engineering and Biotechnology at MIT and instructor of bioengineering at Harvard Medical School (1997-). His current research focuses on metabolic engineering — the engineering of microbes for the production of fuels and chemicals. He has co-authored or edited five books, more than 450 papers, and 55 patents, as well as supervised more than 140 graduate and post-doctoral students. He served as founding editor-in-chief of Metabolic Engineering (1998-2018) and is currently co-editor in chief of Current Opinion in Biotechnology. He serves on the editorial boards of 10 scientific journals and the advisory boards of five chemical engineering departments.
Challenge:
A third of all food produced across the globe is wasted each year.  Are there ways to transform this waste into useful feedstock?
Research Strategy
Engineered the oleaginous yeast Y. lipolytica for the efficient utilization of food waste using metabolic engineering tools
Harnessed this power to produce high-quality proteins and omega 3, 6, and 9 fatty acids from acid whey, a waste byproduct in the dairy industry
Explored the use of resulting nutritious and edible oils as animal feed to produce more nutrient-dense meat products
Developed a process that can be easily fitted into existing production facilities, minimizing waste treatment cost of acid whey, while producing animal feed
Project description
Planet Earth is an evermore resource-constrained environment, both in terms of space and materials. These constraints have resulted in a number of major challenges that humanity must overcome, with food for our growing population looming large in upcoming decades. Many solutions have been put forward to address these concerns, with biotechnology poised to play a significant role most notably in crop improvement. This being said, with a few exceptions, a minimal amount of work has been done on the production of foodstuffs from non-agricultural sources. Over the past 10 years, this project team has developed the oleaginous Yarrowia lipolytica into a platform for the conversion of organic acids to lipids. This project brought these skills to bear in an attempt to help reduce world hunger, particularly in developing nations. The research team designed a solution where waste streams can be utilized to produce high-quality proteins and lipids for animal consumption via organic acid intermediates. For the lipid portion of the project, the team focused on omega-3 (α-linolenic acid/ALA), 6 (linoleic acid/LA), and 9 (oleic acid/OA) fatty acid synthesis. Of these only ALA is a non-native product and thus required the heterologous expression of a single enzyme. In addition, to achieve ideal quantities of each of the desired products, the remaining two native reactions also needed to be engineered at a genetic level. Production of protein, on the other hand, is a natural component of Y. lipolytica's life cycle and was controlled via process conditions. The results of this project allow nations where agriculture is challenging to either partially or completely divorce a portion of their food supply from the requirement for arable land. In conclusion, by focusing on heart-healthy fatty acids, the results of this project can not only reduce hunger but also promote health via the increase of these compounds in the resultant animal products.
Outcomes
Engineered Y. lipolytica for the efficient and rapid conversion of acid whey into lipids by overexpressing native and non-native genes
Engineered the synthesis of the Ω-3 fatty acid α-linolenic acid (ALA) from acid whey
Demonstrated the concept of a circular economy based on ALA-containing yeast cells serving as nutritious animal feed
Developed a platform Y. lipolytica strain capable of producing a wide range of high value-added products from acid whey
Publications
Mano J., Liu N., Hammond J., Currie D., Stephanopoulos G., Metabolic Engineering, 2019
Additional Details
Impact Areas
Research Themes
Sustainability & Adaptation
Transforming Food Systems
Year Funded
Grant Type
Status