News
J-WAFS researchers present at MIT's Tech Reunion
Three J-WAFS researchers recently spoke to MIT alumni about their projects and innovations to solve urgent global water and food systems challenges.
Carolyn Blais June 6, 2023
MIT's 2023 Tech Reunion recently took place from June 1-4 throughout campus. Tech Reunions are a unique opportunity for MIT alumni to "reconnect, (re)meet, and revel with classmates." Over the four-day-long reunion, alumni are invited to take part in various events from lectures to receptions to tours of department, labs, and centers. J-WAFS was fortunate to collaborate with the Alumni Association on sponsoring a session called "Fueling research, innovation, and collaboration to solve urgent global water and food systems challenges." The session was well attended by an engaged crowd who listened to talks from three J-WAFS researchers:
Gabriella Carolini, Associate Professor, Department of Urban Studies and Planning (DUSP)
Presentation title: Enhancing water affordability for vulnerable urban households

Rajeev Ram, Professor, Department of Electrical Engineering and Computer Science (EECS)
Presentation title: Optical sensing for efficient fertilizer use and increased yield in small farms

Greg Sixt, Director, Food and Climate Systems Transformation (FACT) Alliance and Research Manager for Climate and Food Systems
Presentation title: FACT Alliance initiatives to transform the sustainability of food systems through collaborative, actionable research
Longzhen Han, the director of external relations at J-WAFS, kicked off the event with an overview of J-WAFS, explaining grant offerings, recent research efforts, and successful projects with industry collaborators.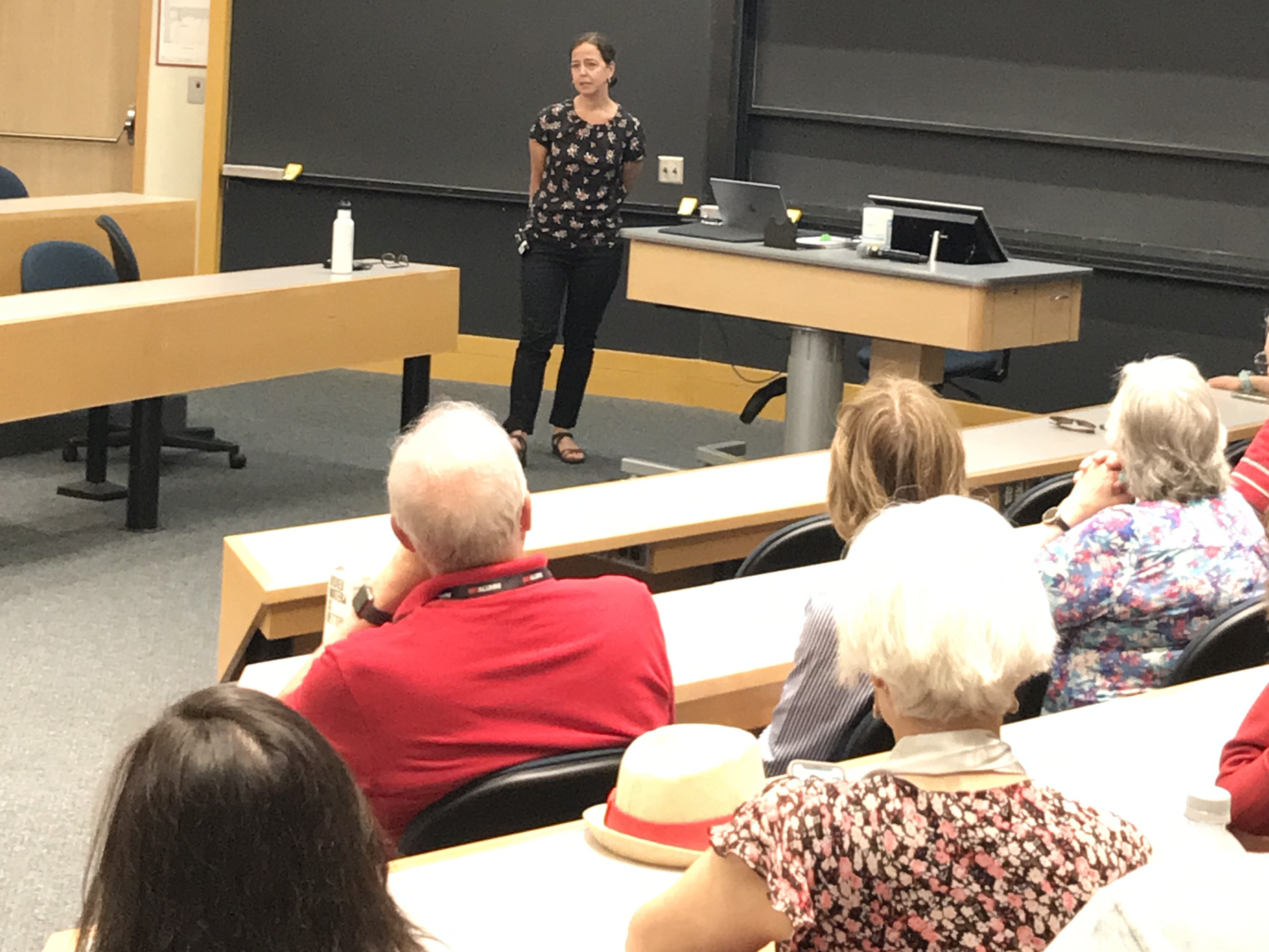 Gabriella Carolini 
Gabriella Carolini then spoke about her J-WAFS water affordability project with fellow DUSP professor Lawrence Susskind. The project examined water poverty in the United States and potential policy-level responses. The researchers were driven by the fact that often those using the least amount of water have the highest rate of water increases. Additionally, many low-income urban households suffer from water shutoffs that often end with home foreclosures. The J-WAFS project looked at the problem from both a structural level and a programmatic level. Carolini and the other researchers spoke with water utilities across the U.S. to gather data on water tariff pricing, water shut-off practices, customer assistance enrollment, and payment plan enrollments. They found that water utilities do not systematically collect household data which limits their capacity to help the households most vulnerable to shutoffs. Because the research took place from 2020-2022, Carolini discovered the Covid pandemic only exacerbated the situation for low-income households. Ultimately, Carolini and her team were able to build an open-source computer program to help utilities and community advocates easily create an equity-focused spatial analysis that maps water shut-offs and customer assistance enrollments, and provides composite insights into the characteristics of neighborhoods where residents need further assistance. They also produced a website and held a workshop with key stakeholders, utilities, and policy makers to explore promising pilot solutions and build consensus around next steps for research and policy.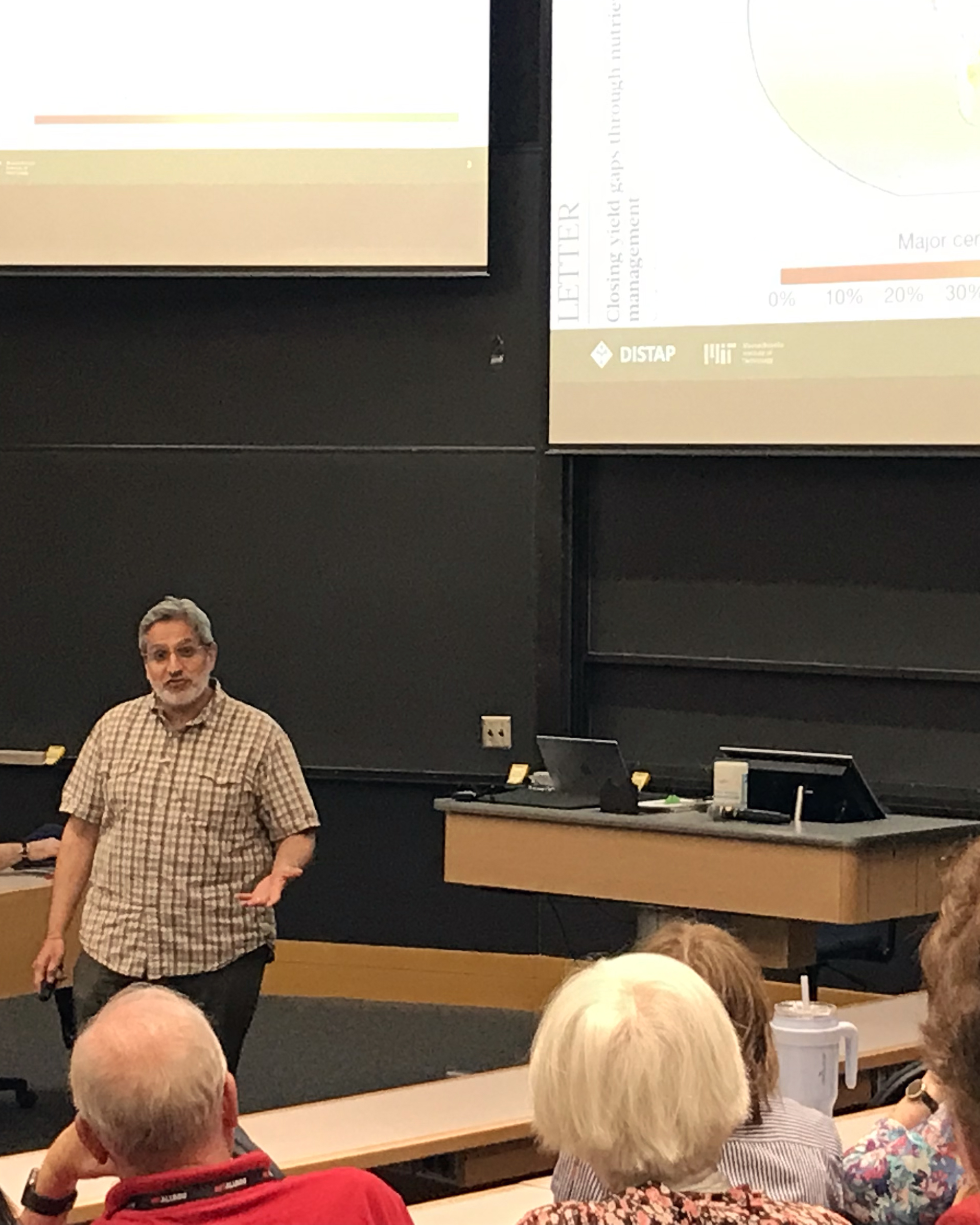 Rajeev Ram
Rajeev Ram gave the second presentation about his work to develop portable optical sensors to provide rapid, actionable data that can allow small holder farmers to better manage their crops. He began his talk by showing leaves of crops that were experiencing different kinds of stresses. He then gave a pop quiz to the audience to see if they could identify what kind of stress the plant was experiencing based on visual ques alone. The point of the exercise was to explain how it's often difficult for farmers to decipher the exact type of plant stress, and it's especially difficult to make conclusions or rectify the problem before encountering losses. Ram noted that soil testing is a good way to understand the health of a plant, but such testing is costly and requires lab equipment. In this way, soil samples cannot be processed onsite, and instead must be taken to the lab. Ram worked on this problem with Rajesh Kumar, an assistant professor of biomedical engineering at IIT Ropar, with the support of a 2021 J-WAFS MIT - IIT Ropar Grant. The researchers used Raman spectroscopy, sensors, and light to measure chlorophyl, figure out plant biomass, and return chemical specificity of plant stress. Their sensors are the size of a flashlight, making them a cheaper, easier, portable, and energy-efficient way to detect plant stress in hours—long before the plant shows signs of infection so that it can recover from nitrogen or other nutrient deficiencies.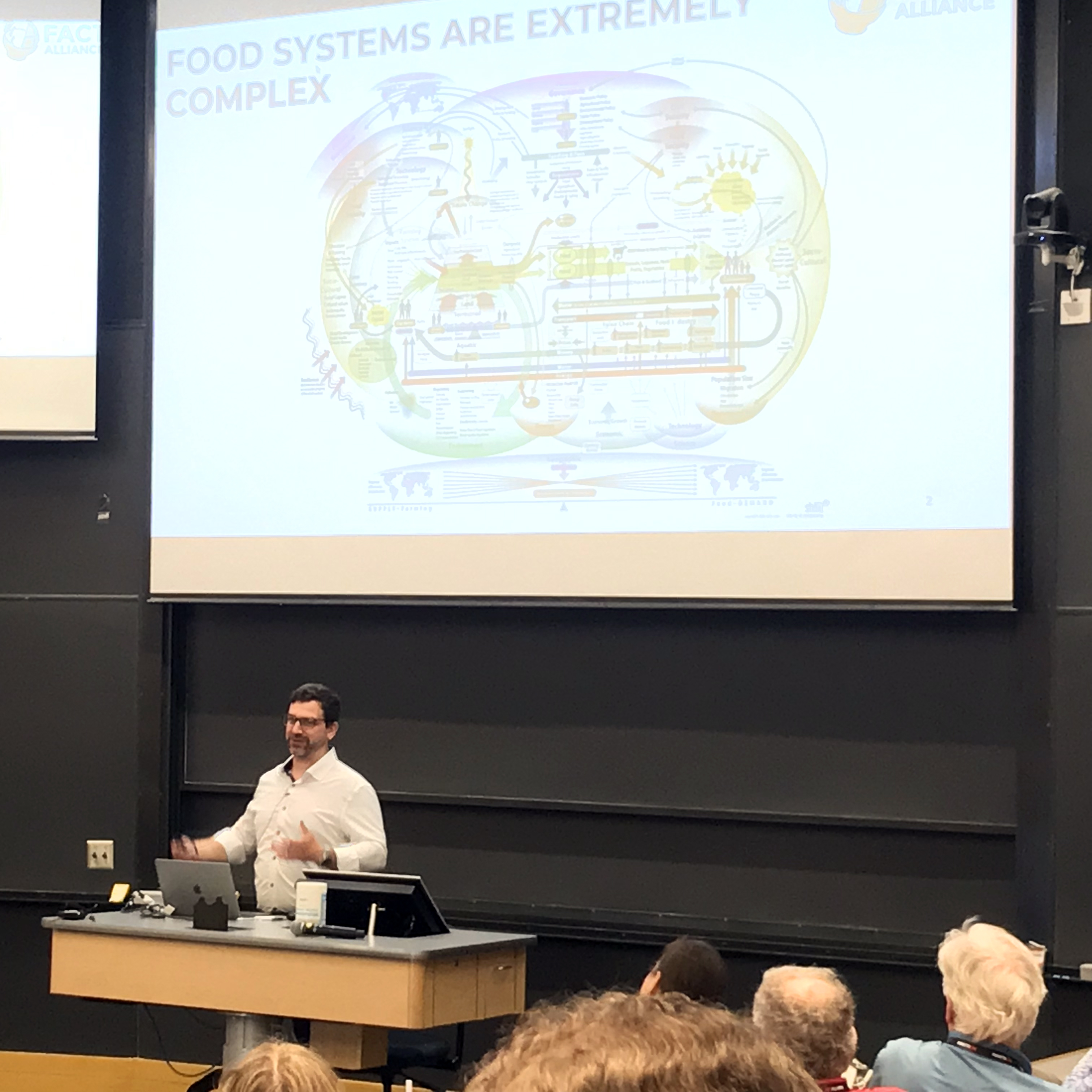 Greg Sixt
Greg Sixt gave an overview of his work as director of the J-WAFS-led Food and Climate Systems Transformation (FACT) Alliance. The FACT Alliance is a first-of-its-kind initiative, connecting researchers, the private sector, non-governmental organizations (NGOs), farming communities, and governments to drive innovation and inform better decision making for resilient and sustainable food systems. Sixt explained that food systems—everything from producing to processing to packaging—are complex, and only made more complex by a changing climate. He noted that about one in ten people worldwide live without enough food to eat, yet at the same time, 39% of adults globally are overweight. Aligning with stakeholder needs is absolutely necessary in order to transform food systems. One way to do this is to use convergence research which builds collaborations across disciplines and engages stakeholders in an iterative, actionable process. Sixt described the FACT Alliance's foundational project called the Jameel Index which is focusing on international trade as it plays a crucial role in food security by affecting food availability, access, stability, and sustainability. The Jameel Index, in collaboration with Community Jameel, will study 126 different countries to answer questions like "what happens when multiple providers of agriculture have a bad year because of climate change?" Understanding the interconnected worldwide food-system and the threats it may experience, will give researchers and stakeholders a better idea of how to respond and mitigate negative impacts.