News
MIT students glean knowledge of water-related issues and solutions from Stockholm World Water Week and experts at Xylem, Inc., a J-WAFS Research Affiliate 
Recipients of the 2022 J-WAFS Travel Grant for Water Conferences were able to meet with Xylem employees and visit the water company's Stockholm facility during their time at World Water Week
Carolyn Blais, J-WAFS September 13, 2022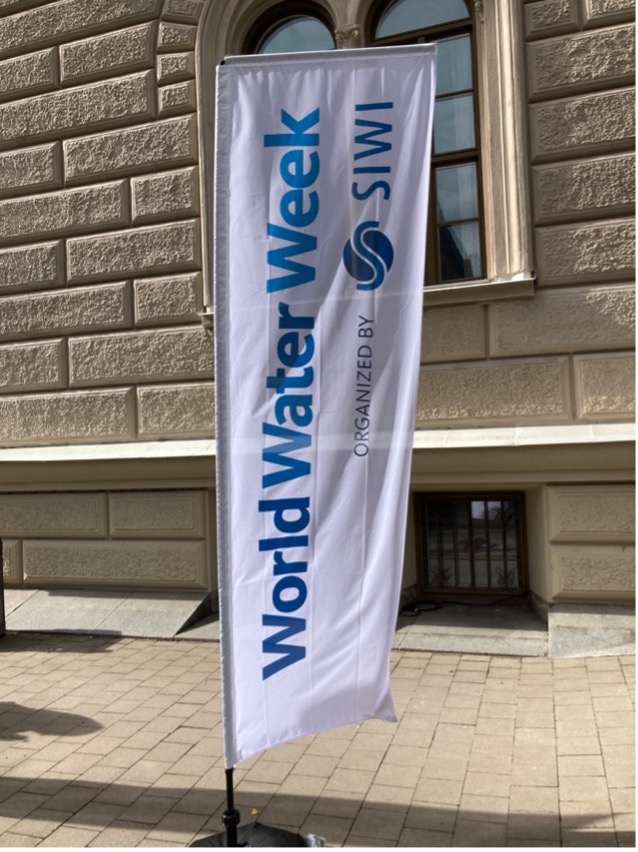 World Water Week banner at entrance to the conference
J-WAFS offers travel grants for MIT graduate students to attend select international water conferences. This year, four students received grants to travel to Stockholm, Sweden for World Water Week in August. Nearly 400 organizations from 130 countries met at this event, which offered close to 300 different sessions and activities addressing global water issues. The theme of World Water Week 2022 was 'Seeing the unseen: The value of water,' with a focus on people and development, finances and the economy, and nature and climate.
The travel grants are made possible by the generous support of J-WAFS' Research Affiliate companies, Xylem, Inc. and GoAigua. The J-WAFS Research Affiliate Program connects corporate, government, and non-profit collaborators with leading researchers and laboratories across MIT to pursue research that addresses pressing issues in water and food. In 2016, Xylem became the first J-WAFS Research Affiliate, sparking a collaboration which has gone on to create inventive solutions to difficult challenges in the water sector. Xylem is also a sponsor of World Water Week and the affiliated Stockholm Junior Water Prize, offering additional networking and professional development opportunities for the MIT students who attended the conference.
"As a leading international water technology company, Xylem has been particularly interested not only in supporting novel and innovative water research at MIT, but also mentoring MIT students in the J-WAFS community," said Renee J. Robins, executive director of J-WAFS. "With our Research Affiliates' support, we were able to send four eager MIT students to World Water Week 2022 where they were able to gain valuable insights from experts in the water sector, including those at Xylem," she added.
In addition to the sessions, seminars and discussion at World Water Week, the four MIT travel grant students were invited to tour the Xylem Stockholm facility. There, they interacted with engineers and other Xylem staff members, as well as the Stockholm Junior Water Prize finalists. A recap of each student's experience in Stockholm is given below.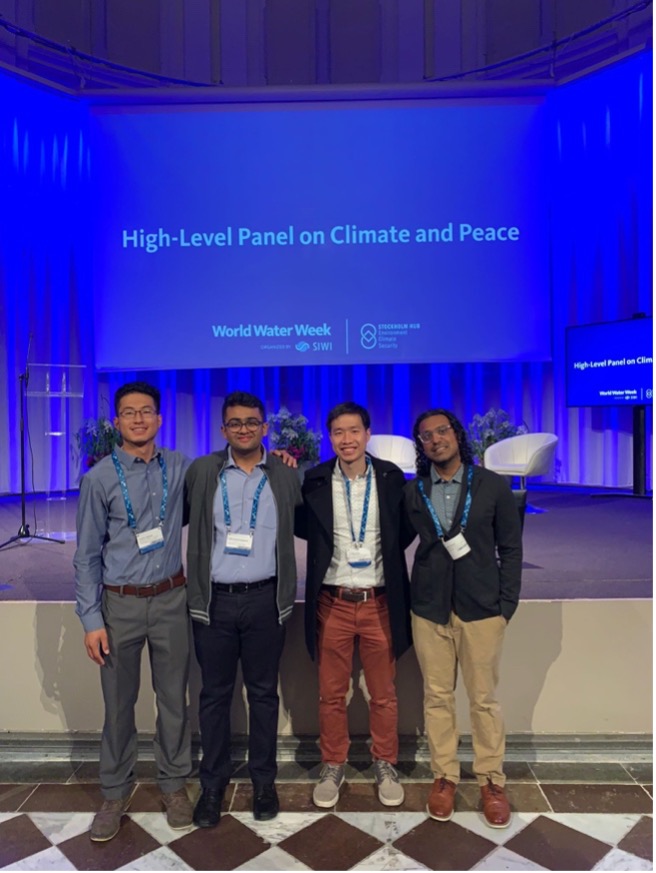 L to R: Jonathan Bessette, Aditya Ghodgaonkar, Chun Man Chow, and Gokul Sampath, the four 2022 J-WAFS Travel Grantees at Stockholm World Water Week
"Stepping off of the express train from Arlanda International Airport I found myself amidst rush hour in Stockholm Central Station," says Jonathan Bessette, a PhD candidate in the Department of Mechanical Engineering. After finding his way to the hotel, and then the conference center, Jon joined in on the action by attending presentations about water, sanitation, and hygiene (WASH), and water insecurity among forcibly displaced persons. Jon also engaged in conversations with CEOs of water companies, executive directors of non-profits in the water space, and other students researching topics like groundwater and desalination. "It was a fantastic opportunity to learn by immersion, making connections with WASH experts, having calls with practitioners in Kenya and Somalia, talking about potential partnerships for field pilots within large international organizations like UNICEF, US AID, and Oxfam," says Jon. Yet he also recognized the communication gap that often exists among those working in water, for example between social scientists and engineers. "I see more and more that in WASH there is a strong gap between the needs assessments that these social scientists and NGOs are conducting, and the actual design requirements set out by engineers." A greater impact could be made, Jon says, if scientists, engineers, practitioners, and stakeholders could simply find themselves in the same room more often, to talk to each other about water issues and how their work interconnects across disciplines.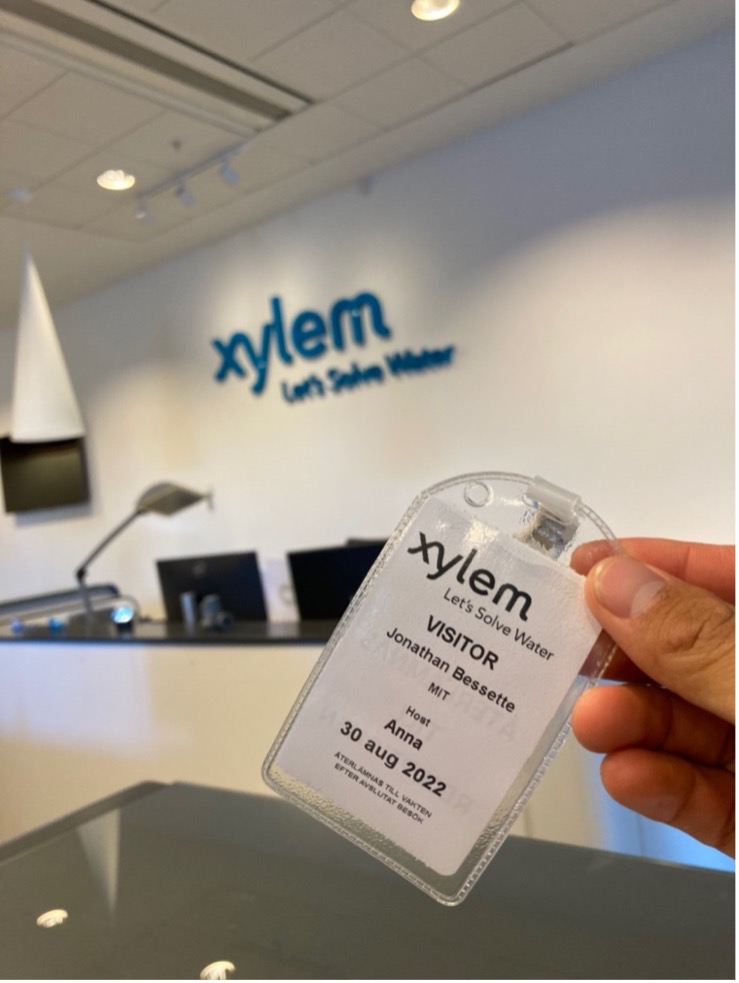 Jonathan Bessette's visitor pass to the Xylem facility
Jon notes that a highlight of the week was the tour of the Xylem facility just outside Stockholm. "It was great to connect with engineers and see the labs firsthand," he says. "I have been on many company and lab tours, and this was one of the most in-depth I had seen. We had the opportunity to speak directly with engineers and technical program leads and managers." One engineer, Jerker Lindmark, talked to Jon about modeling and hydrodynamics of pumping stations. "It was amazing talking to a technical expert at Xylem, and it was truly informative to see how this industry leader approached design," Jon reports.
Leaving World Water Week, Jon had even more motivation for his research on deployable desalination systems to mitigate water scarcity. He also formed bonds with the other J-WAFS Travel Grant students and hopes to collaborate with some of them on sensor developments for water collection behavioral studies in India. "All of this would not be possible without the generosity of J-WAFS Research Affiliates like Xylem," says Jon. "I had a fantastic time talking to their engineers, scientists, and managers about their organization's role in water & climate."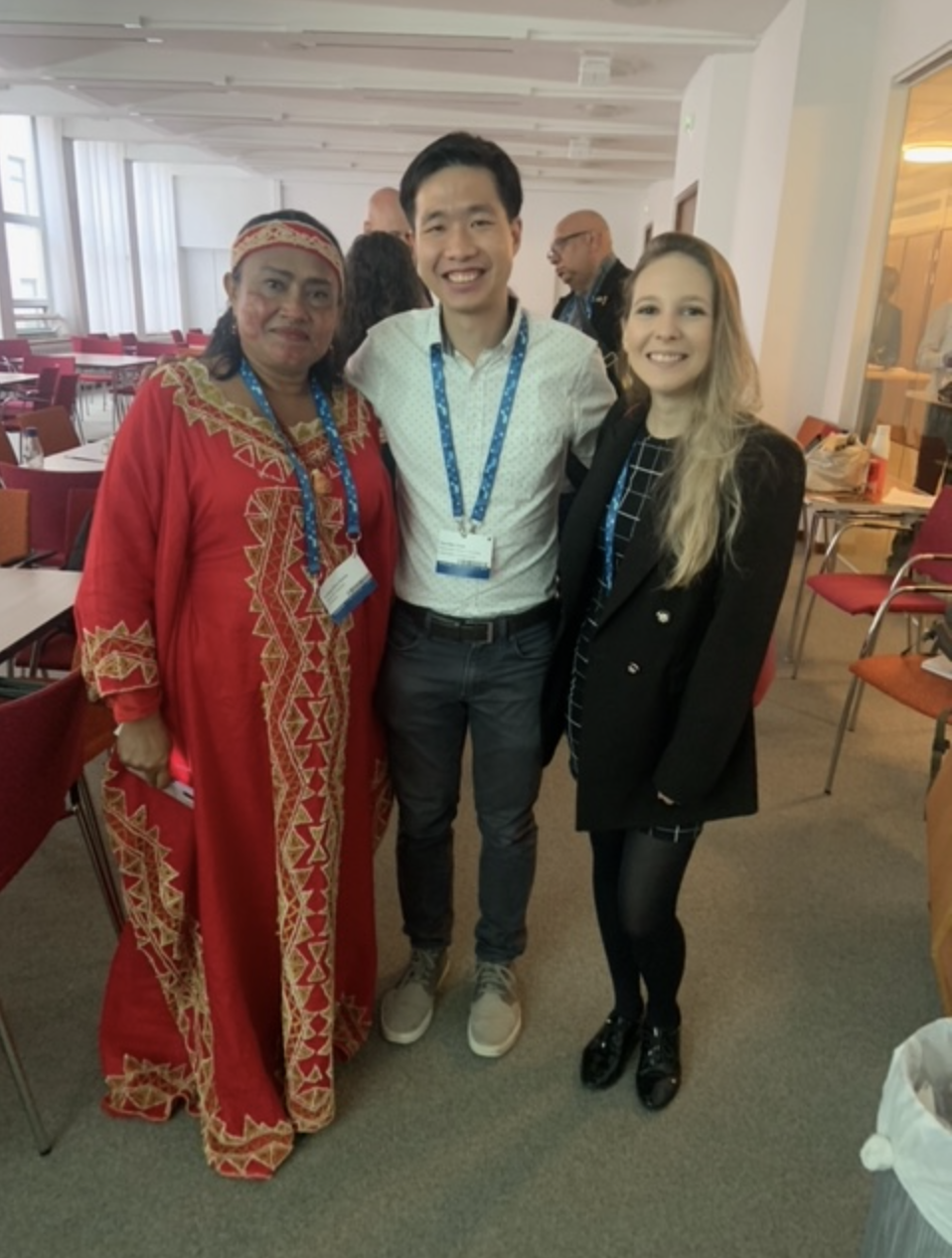 Chun Man Chow with other World Water Week participants
For Chun Man Chow, a PhD student in the Department of Chemical Engineering, the water conference offered insights into how various fields engage in the water space, including hydrology, humanitarian aid, water and sanitation services, municipal utilities, multilateral organizations, NGOs, government agencies, data start-ups, and academia. "Initially, seeing all these organizations might be a little disorienting (as compared to the academic conferences that most of us at MIT are used to)," Chun Man says, "but it's clear that water problems are multifaceted, and it takes multiple disciplines collaborating to address them."
A memorable session for Chun Man was "Honoring indigenous culture by integrating sacred art & WASH," where a leader of the indigenous Wayuu tribe in Colombia, together with WaterAid, led an interactive art project and conversation. Chun Man learned that by integrating sacred art elements into their sanitation facilities and involving the whole community in the construction and art creation process, the Wayuu were able to increase good hygiene practices. The session "really illuminated the limitations of purely technological solutions in resolving water problems," say Chun Man. "It gave me a deeper appreciation of all the hard work put into understanding cultural morays and beliefs, and how that helps connect the 'solution-providers' and the community that was to be supported, leading to the co-creation of more effective water solutions."
Chun Man also interacted with MIT alumna Lindsay Stradley, co-founder of the sanitation waste-to-energy company Sanergy, who spoke to him about opportunities in the WASH and resource recovery space. Looking to bring some of these perspectives back to MIT, Chun Man invited her for a career-sharing session with the MIT Water Club on campus this fall.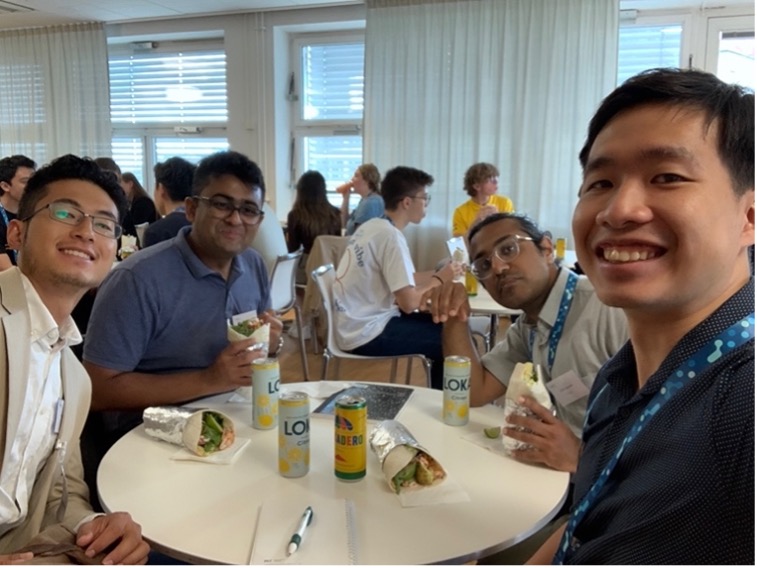 L to R: Jonathan Bessette, Aditya Ghodgaonkar, Gokul Sampath, and Chun Man Chow have lunch during the Xylem facility tour
During the tour of Xylem's facility Chun Man chatted with engineers about pump design, including fluid mechanics, control systems, and impellers. "It was great to see how engineering concepts were put into real world applications, and how Xylem is making an impact in the world," Chun Man says. "These sessions definitely dived more deeply into the technical aspects of water and were refreshing as they gave us more confidence on how we could practically apply our technical skills to solve some of the pressing problems of the world."
"Going into the conference, I was keen on learning more about water challenges from the perspective of non-engineering professionals such financiers, NGO workers, and policy makers," says Aditya Ghodgaonkar, a PhD candidate in the Department of Mechanical Engineering. At MIT Aditya works on designing affordable, maintenance-free drip irrigation emitters. He is currently exploring career options, so he appreciated the opportunity to engage with and learn from a variety of people working in the world of water. "I realized that the way engineers and scientists decipher and communicate any problem is quite distinct to our field and that to be able to translate any of our developments there needs to be a lot more effort in presenting and communicating our work in such a way that its values are clear to users, policy makers and investors," says Aditya. "We need to be able to present difficult science in a way that layman can understand it and emotionally invest into it." Additionally, he learned the importance of stakeholder analysis and field meetings with users, distributors, and other stakeholders in order to advance developments in water.
Some of the sessions Aditya attended helped him explore water startups, which he is very curious about. He learned that social impact startups could more effectively raise money in a manner that manages risks and meets everyone's needs while meeting the social impact goals the company set out to accomplish.
As a researcher working at the intersection of machine design and fluid mechanics, Aditya found the tour of Xylem fascinating. "I liked seeing how they used good engineering design and testing to support their commitment to creating products that help make the entire water chain in urban settings more sustainable — from water supply to sewage collection and reprocessing," he said. Aditya also notes his interaction with engineer Jerker Lindmark, who gave an informative explanation of tools using computational fluid dynamics, and how sustainability and water savings could be integrated in something as innocuous as a sewage pump station. Hayati Yarkadas, the Xylem Europe business lead, also introduced himself to the J-WAFS group.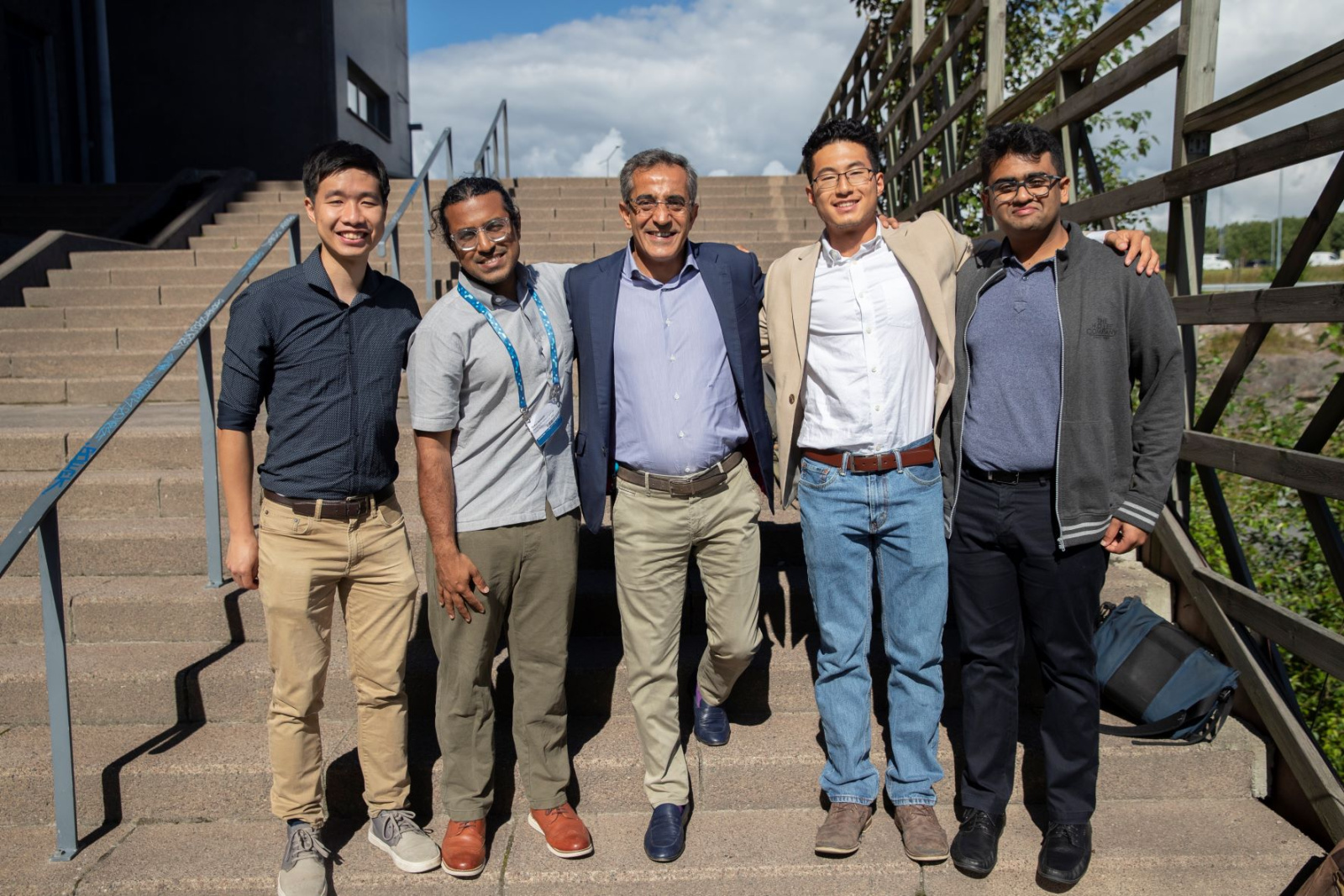 The four J-WAFS Travel Grantees meet with Hayati Yarkadas, Xlyem's Senior Vice President and President, Europe, Water Infrastructure and Global Services.
What aspects of water's value do planners, researchers, and implementers fail to see when thinking about programs to improve drinking water, sanitation, and sustainable irrigation access around the world? This was the central question Gokul Sampath asked himself while attending World Water Week 2022. As a PhD student in the Department of Urban Studies and Planning (DUSP), Gokul uses archival, spatial, and econometric methods to answer questions about who gets access to water in South Asia. Many of the lectures he attended at World Water Week and the contacts he made helped him further his knowledge of his field. "An area of research I am interested in is non-revenue water reduction, or NRW" says Gokul. NRW refers to water that is "lost" before it reaches the customer, which is a significant drain on water resources in many parts of the world. Gokul was fortunate to meet a professional whose NRW company uses listening devices and sound processing to locate leaks in municipal pipes in Indian cities.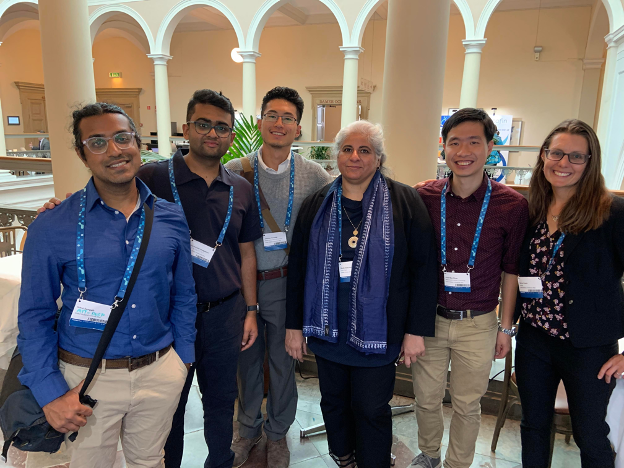 The four J-WAFS Travel Grantees with MIT alumni Roohi Abdullah (center) and Rachel Peletz (far right)
Other sessions that Gokul attended offered informative approaches to tackling pollution of rivers, improper water governance, declining groundwater tables, tube well irrigation improvements, and democratizing data for the water sector. "The diversity of topics covered was impressive, and the conference planners sought out a broad range of presenters from government, the private sector, NGOs, and academia," says Gokul. He also connected with Roohi Abdullah, an MIT DUSP alumna who is now a consultant for Tetra Tech and leader of a USAID project on urban WASH. She offered useful advice for succeeding in the water space by applying MIT learnings with a future career in development.
Gokul recounts how he was pleased to speak with Ulf Carlsson and Ramnath Laxman at the Xylem booth. They talked about Gokul's research and the difficulties of designing a water meter for hand pump wells in rural Indian settings. "Having Xylem involved in the conference experience was a positive addition," Gokul says. He notes how meeting the Junior Water Prize winners, both during their poster presentation sessions and at the Xylem facilities, left him feeling "genuinely hopeful—despite substantial hurdles—that the next generation of water professionals and researchers may be up to the task of addressing future water challenges." Touring Xylem's facilities, Gokul "was able to learn so much just from listening in to the Xylem engineers during their impressive demonstrations. Xylem's commitments to expanding water access for all really came through in their presentations," he says.
Gokul sums up his World Water Week experience by revealing that the most surprising and unexpected connection made was with his colleagues from MIT with whom he attended the conference. "Prior to being brought together for World Water Week I did not know Jonathan, Chun Man, or Aditya. I am so happy this conference brought the four of us together, as we have so many overlapping interests around water and international development. Some of the best conversations I had about WASH and water management were over dinner with my colleagues. We shared thoughts, critiques, and new ideas gleaned from the day's sessions. I am certain that this shared experience at World Water Week will lead to future research collaborations between the four of us, but more importantly entirely unexpected new friendships back in Cambridge."
J-WAFS, Jonathan Bessette, Chun Man Chow, Aditya Ghodgaonkar, and Gokul Sampath are grateful to Xylem, Inc. for their generous support of the Travel Grants to attend World Water Week 2022, as well as their engagement, mentorship, and facility tour.