Our Research
Engineered microbial cocultures to detect and degrade organophosphates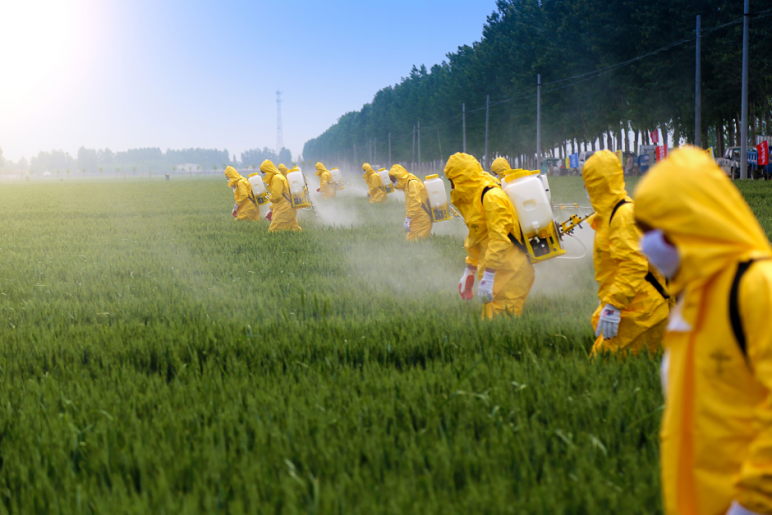 Spraying pesticide in hazmat suits. Image Credit: The Intergovernmental Science-Policy Platform on Biodiversity and Ecosystem Services
Principal Investigator
Ariel Furst
Raymond (1921) & Helen St. Laurent Career Development Professor
Department of Chemical Engineering
Ariel L. Furst is the Cook Career Development Professor of Chemical Engineering at MIT. Her lab combines biological, chemical, and materials engineering to solve challenges in human health and environmental sustainability. She is a CIFAR Azrieli Global Scholar, the recipient of a 2022 3M Non-Tenured Faculty Award, and the Army Research Office Early Career Award. She is passionate about STEM outreach and increasing the participation of underrepresented groups in engineering.
Challenge:
Can we detect and degrade organophosphate pesticides in the environment? Can we scale this technology for autonomously deployable monitoring?
Research Strategy
Engineer two microbial strains to act together to degrade pesticides and detect their degradation products
Incorporate strains into handheld electrochemical device for on-person monitoring
Develop autonomous devices based on these strains for continuous environmental monitoring
Project description
Organophosphates, commonly used as pesticides, are extremely toxic to humans. Though some have been discontinued, many of these toxic chemicals remain widely available and continue to be used in agriculture and mosquito control, often aerosolized for distribution. Most detection strategies monitor organophosphate degradation products in blood and urine following exposure, with few examples of detection at the time of dispersal. The Furst Lab will engineer microbial cocultures for the targeted electrochemical detection and degradation of these harmful compounds. This approach provides a modular, adaptable strategy to detect and degrade harmful toxins and is expandable to additional toxic compounds.
Publications
Marjon Zamani, Tatum Wilhelm, and Ariel Furst, Journal of the Electrochemical Society, 2022
Marjon Zamani, Victoria Yang, Lizi Maziashvili, Gang Fan, Catherine M. Klapperich, and Ariel L. Furst, ACS Measurement Science Au, 2021
Amruta A. Karbelkar, Erin E. Reynolds, Rachel Ahlmark, and Ariel L. Furst, ACS Central Science, 2021
Additional Details
Impact Areas
Research Themes
Water Purification & Desalination
Sensors & Monitoring
Year Funded
Grant Type
Status