News
Shaping the water future: MIT students' insights from the UNC Water & Health Conference 2023
By Orla Molloy November 13, 2023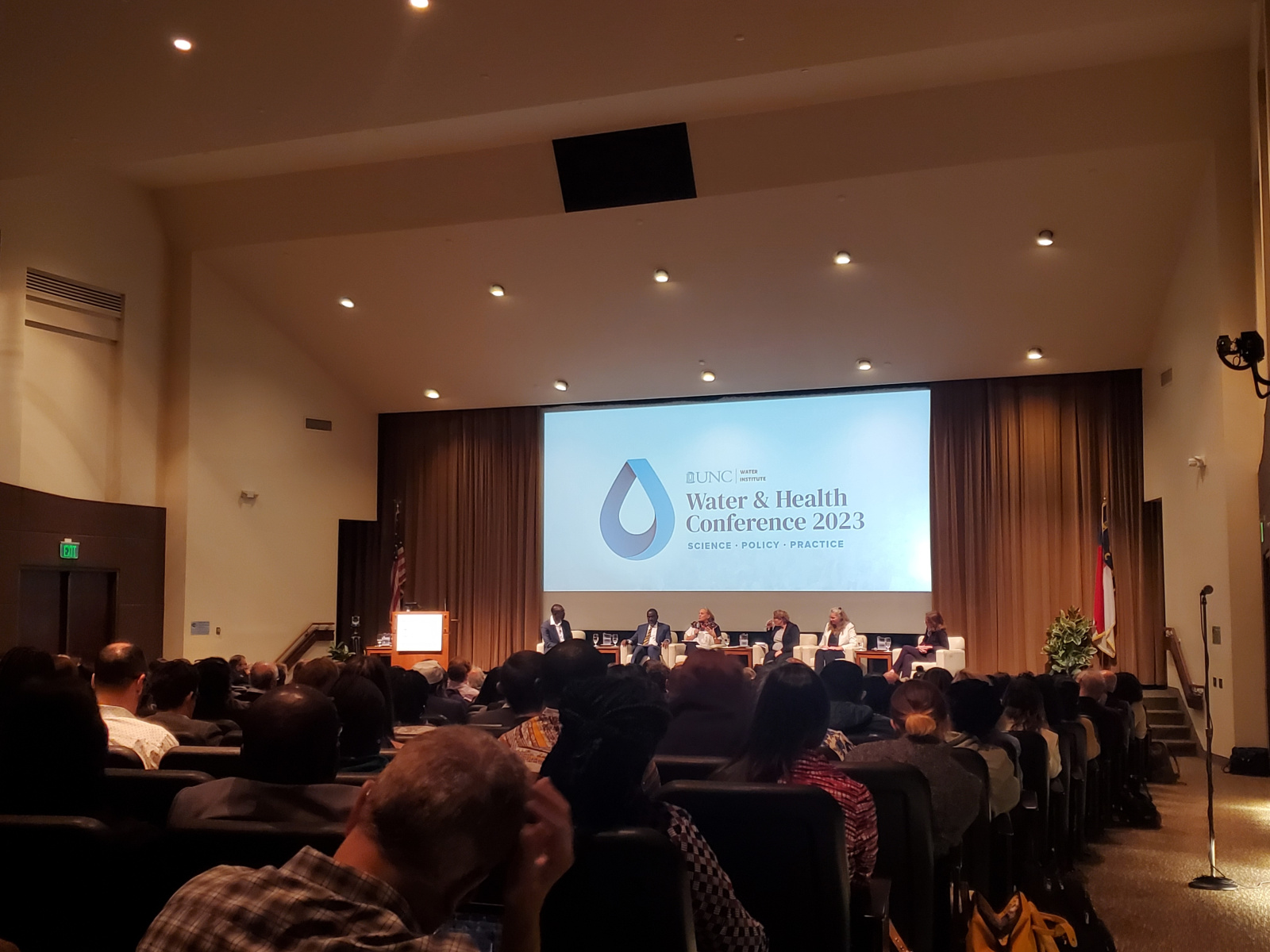 A session at the UNC Water & Health Conference.
J-WAFS offers travel grants for MIT graduate students to attend select international water conferences. This year, Barathkumar Baskaran, Devashish Gokhale, Cat Lu, and Anushka Shahdadpuri received grants to travel to the annual UNC Water & Health Conference. The J-WAFS Travel Grant for Water Conferences is supported by J-WAFS Research Affiliates Xylem Inc. and GoAigua, two water technology companies. The 2023 UNC conference had more than 3,700 registrants, from 122 countries and 258 universities. The conference provided a space where policymakers, practitioners, and researchers could review the latest water science and gain actionable, data-driven insights.
At the UNC Water & Health Conference, the J-WAFS Travel Grantees connected with a community of professionals in water, sanitation, and hygiene (WASH) and engaged in thoughtful conversations with experts from around the world. The conference allowed the MIT students to gain valuable insights to shape their academic and professional trajectories.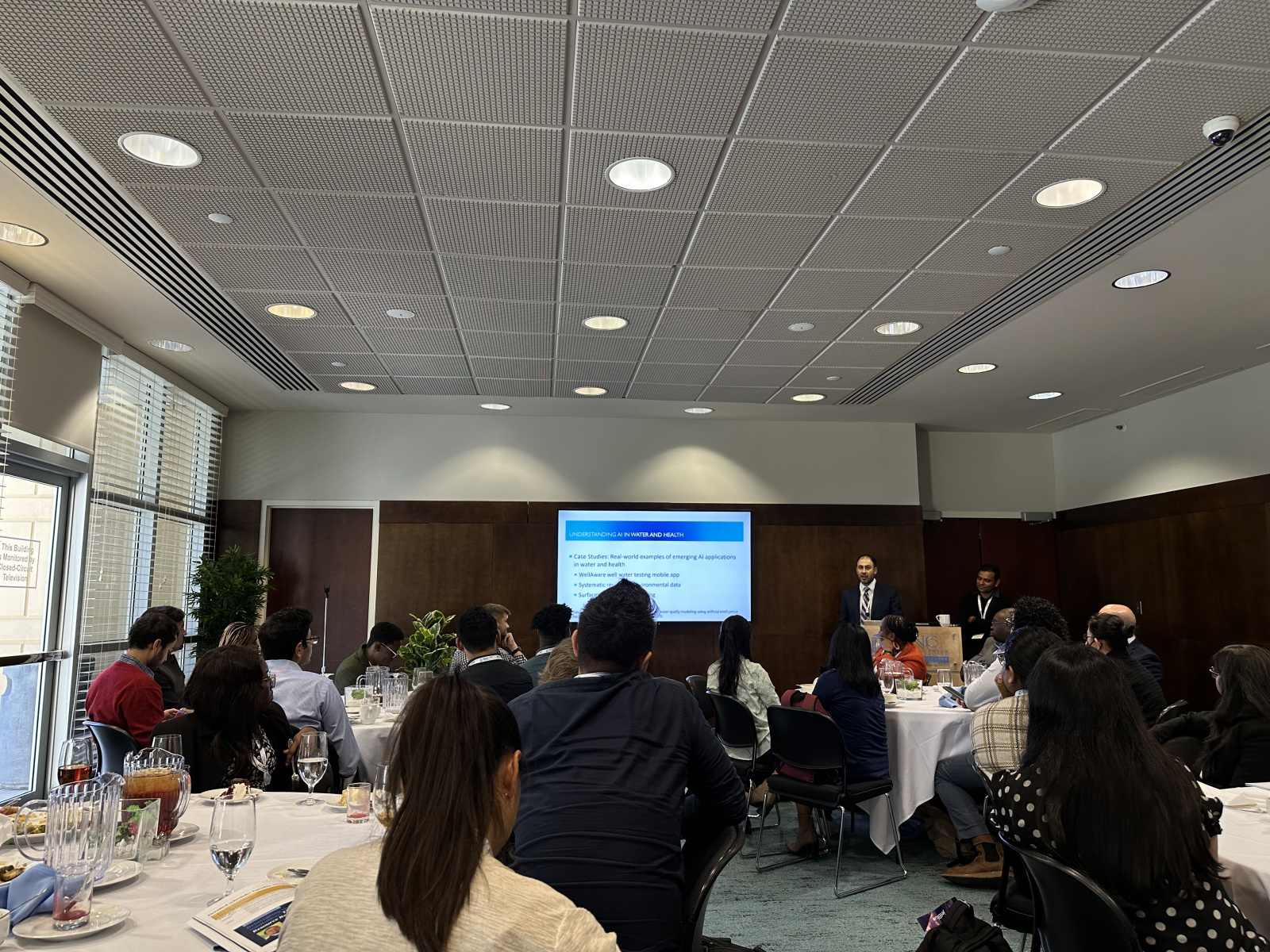 Conference attendees at round tables listening to the session "Understanding AI in Water and Health."  
"The UNC Water & Health Conference was an incredibly informative and humbling experience," says Barathkumar Baskaran, a PhD candidate in the Department of Chemical Engineering. "It was a great opportunity and privilege to interact with, learn from, and listen to experts who have been working tirelessly in the water, sanitation, and hygiene space." Barath works to design filters to electrochemically treat drinking water in Desirée Plata's group. His main focus is designing a more capable and energy-efficient system to treat N-nitrosodimethylamine (NDMA), a concerning chemical as a disinfection by-product and as a Superfund site contaminant. At the conference, Barath found opportunities to solicit perspectives on his work at MIT. He says his "perception of the potential opportunities for collaboration and understanding of the scope of ongoing efforts has been expanded."
Throughout the week, Barath had meaningful conversations with leaders in the water sector interested in scaling up systems to treat contaminants and gleaned insights from key speakers. "Many of the presenters emphasized the idea of truly understanding and listening to the communities whose water treatment needs we try to address. It's a key takeaway for me and it's one of my own professional goals as a Superfund Research Program trainee," he adds. Leaving Chapel Hill, Barath looks forward to applying the learnings to his current research area as well as in his broader contributions to the WASH community.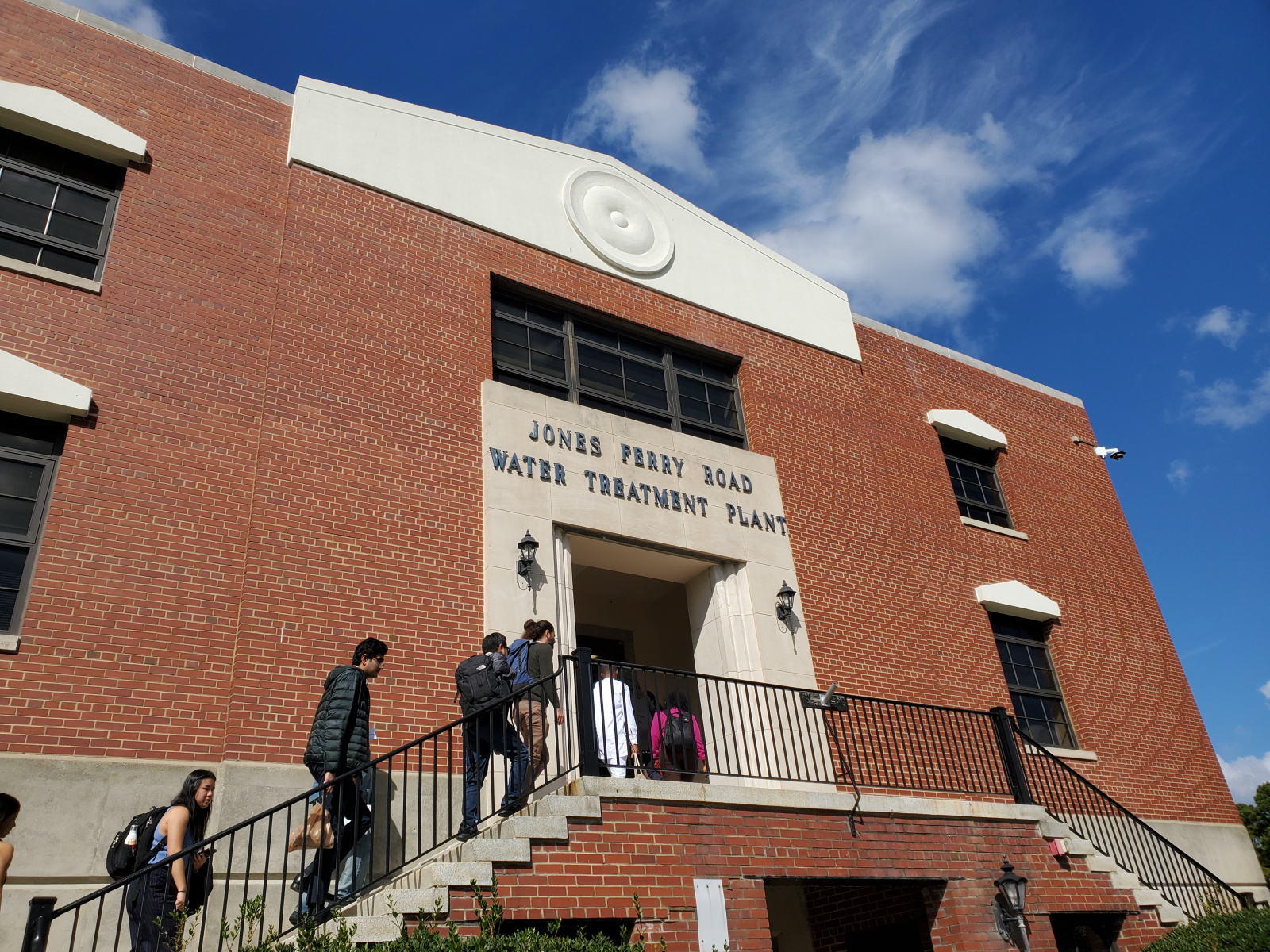 The Travel Grantees on a conference field trip to the Jones Ferry Road Water Treatment Plant.
For Cat Lu, a master's student in the Department of Civil and Environmental Engineering, the UNC Water & Health Conference not only emphasized the intersection of water-related issues but also the responsibility to address water challenges globally. Cat is studying environmental engineering with a particular interest in hydrology and water resources. Currently, she is working with Professor Dara Entekhabi on modeling and predicting droughts in Africa using satellite Soil Moisture Active Passive (SMAP) data. "The theme of community outreach was one I found very fascinating and important," says Cat. The session "Benefits and Harm: Risk Communication during WASH crises" stood out to her as an invaluable opportunity to recognize the importance of how research aims are communicated to the public. "I liked this event in particular since it made us take a step back to think about how we are presenting our research and findings, in the midst of learning about all these new innovations in the WASH field at the conference," Cat adds.
Additionally, Cat was impressed by the diversity of conference attendees. "The global perspective offered at the conference provided a valuable context for understanding the challenges and successes of different regions around the world – from WASH education in schools in Zimbabwe and India to rural water access disparities in the United States," Cat notes. "Learning about international efforts to tackle water-related health issues showcased the power of collaboration on a global scale."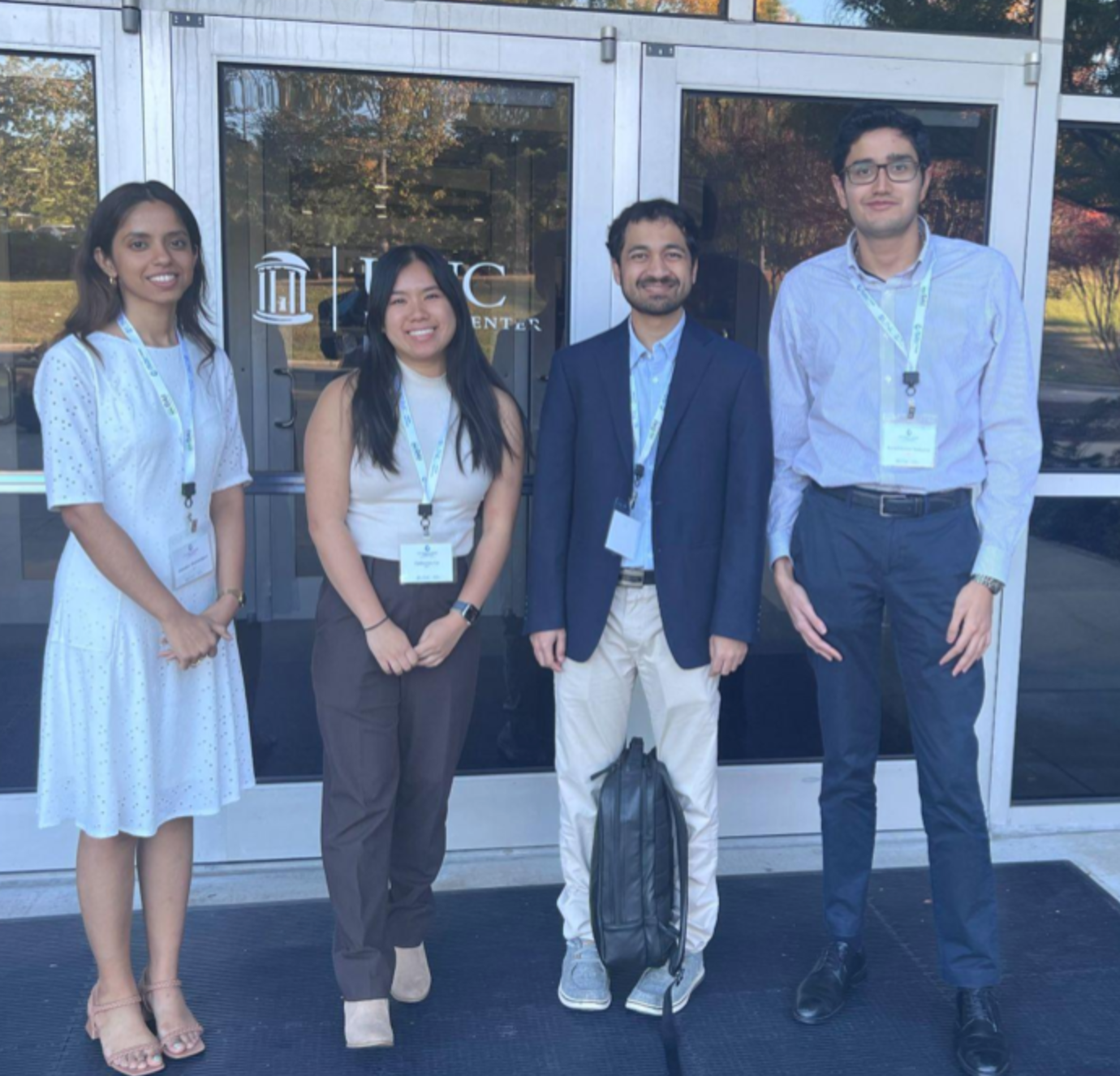 UNC Travel Grantees, from L to R: Anushka Shahdadpuri, Cat Lu, Devashish Gokhale, and Barath Baskaran.
Like Cat, Devashish Gokhale, a PhD student in the Department of Chemical Engineering, was struck by the diverse and interdisciplinary audience in attendance at the conference. "I was able to get a much broader overview of emerging challenges and solutions in the water space, identifying new opportunities where my work could make a difference, and identifying the right niches within those areas where my technology is likely to outcompete solutions currently being pursued in industry," says Devashish.
As a researcher in Pat Doyle's group in Chemical Engineering, Devashish is developing sustainable and reusable materials for water treatment, with a focus on eliminating emerging contaminants and other micropollutants from water through cost-effective processes. This research is currently being funded by a J-WAFS Solutions Grant. Devashish made a number of valuable connections at the conference, ranging from startup founders who provided valuable advice for scaling up his work into industrial solutions, to environmental engineers and social workers who were excited to test his technology in the field.
He highlighted that some of these connections were graduate students and future leaders in the water sector. "Discussing my work with them helped me develop a sense of community, especially important in a space like this in which interest is rapidly growing and we are seeing the emergence of urgent and pressing problems and the development of highly innovative solutions," Devashish says. He is committed to maintaining these connections to help him deliver real impact in the field.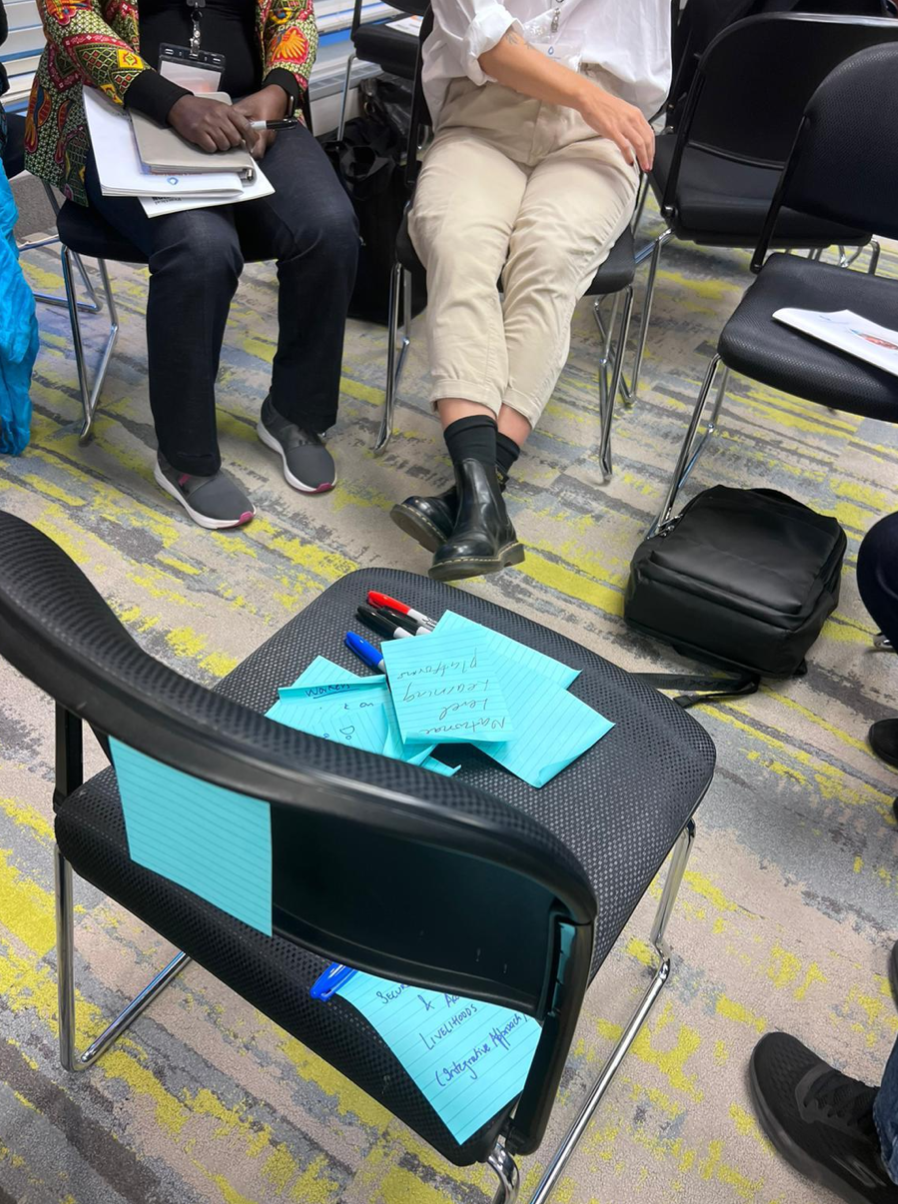 Blue sticky notes stuck on a black chair from a collaborative session at the conference.
Anushka Shahdadpuri, a master's student in the Department of Urban Studies and Planning and Institute for Data Systems and Society, described the conference as an "eye-opening experience" that had a lasting impact on her. She's the founder of Aamchi, a community-led organization in India dedicated to addressing WASH issues in informal settlements. Aamchi employs a dual approach with both IoT-enabled rainwater harvesting technology, as well as waterless technology based on hydrothermal carbonization.
A recurring theme that stood out to Anushka was the power of community-led initiatives in water resource management. "It was heartening to see how local communities, often facing the most pressing water-related challenges, are at the forefront of change," Anushka says. "The emphasis on engaging communities in decision-making processes, as well as empowering them with knowledge and resources, left me convinced that sustainability in the water sector begins at the grassroots."
Additionally, the conference brought attention to the pivotal role of data and innovation in today's data-driven world. Anushka noted the revelation of using Randomized Controlled Trials (RCTs) to address water quality issues. "These trials, which use data and experimentation to drive community-led projects, showcased the immense potential of rigorous, evidence-based decision-making in water management," says Anushka. "I was fortunate to engage in thought-provoking conversations with experts who shared their experiences with RCTs, shedding light on their practical applications and challenges."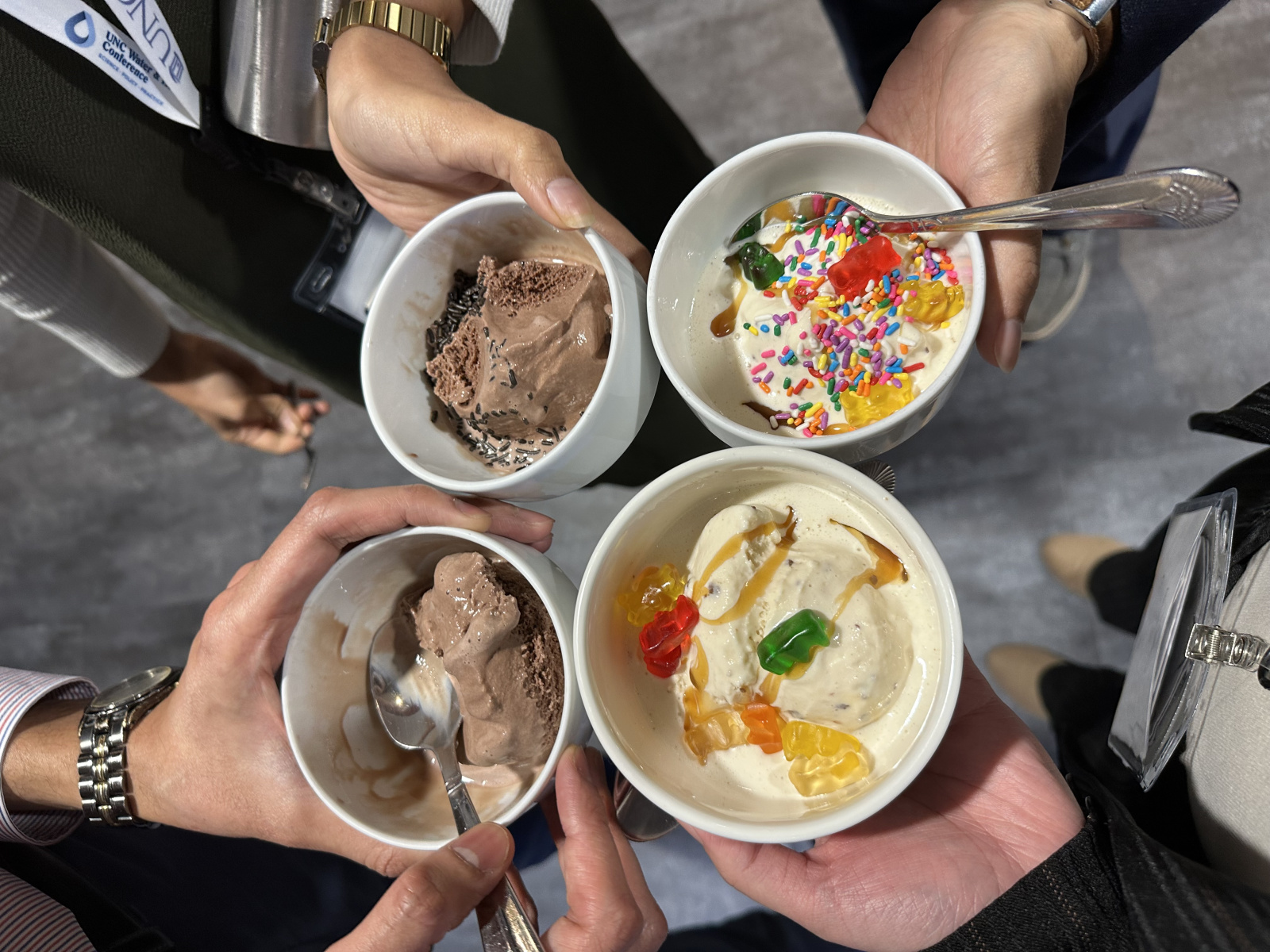 UNC Travel Grantees enjoyed ice cream sundaes.
Anushka concluded her reflections on the UNC conference by expressing how it broadened her horizons, deepened her understanding of the complexities within the water sector, and reinvigorated her commitment to lead with innovation, data-driven strategies, and community participation. "As I look to the future, I'm inspired to make a meaningful impact in the water sector, both locally and globally."
The UNC Water & Health Conference proved to be an enriching experience for the MIT students, providing them with valuable insights to influence their academic and professional paths.
Through participation in seminars, workshops, and discussions with global experts, they returned to campus with inspiration and gratitude, acknowledging the crucial support from Xylem and GoAigua that made their attendance at the conference possible.
The grantees had a unique chance to engage in insightful discussions, sharing their experiences and passion for the field. Cat expressed her enjoyment, stating, "[I] really enjoyed discussing with Barath, Devashish, and Anushka about the workshops and events they attended, as well as their experience in the field so far." Additionally, they took time to savor some delicious ice cream and take some memorable photos in the photobooth during their free time!
J-WAFS, Barathkumar Baskaran, Devashish Gokhale, Cat Lu, and Anushka Shahdadpuri thank Xylem, Inc. and GoAigua for their generous support of the Travel Grants to attend the UNC Water & Health Conference 2023.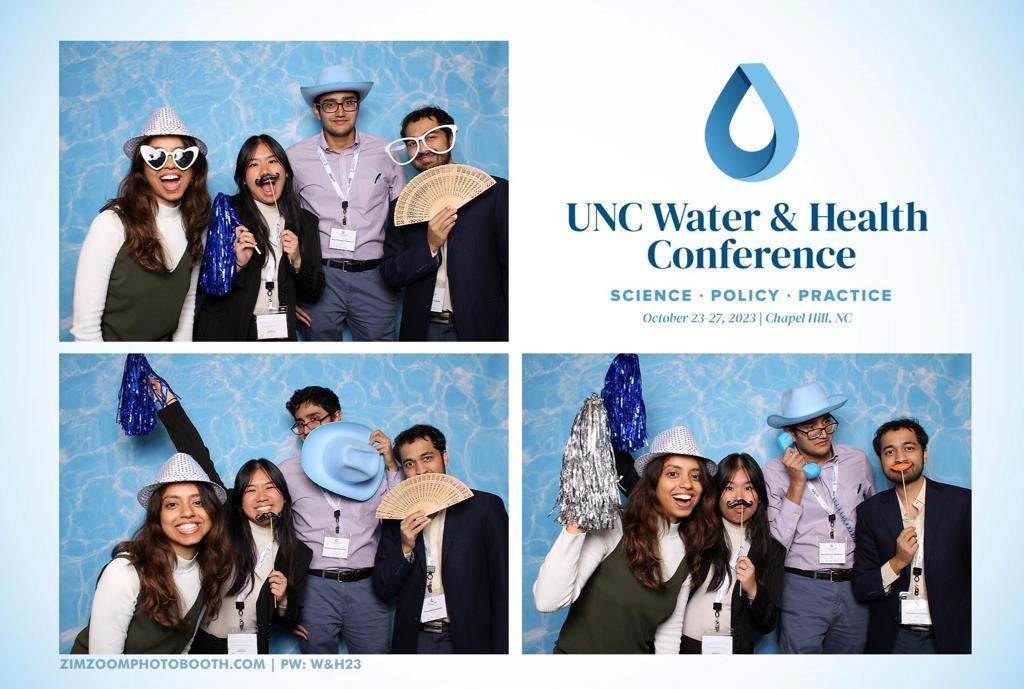 The students had fun with props in a photo booth at the conference.