News
MIT water and food clubs award innovation prize
The MIT Water Club and the MIT Food & Agriculture Club teamed up to offer a joint Innovation Prize this year.
Carolyn Blais June 5, 2023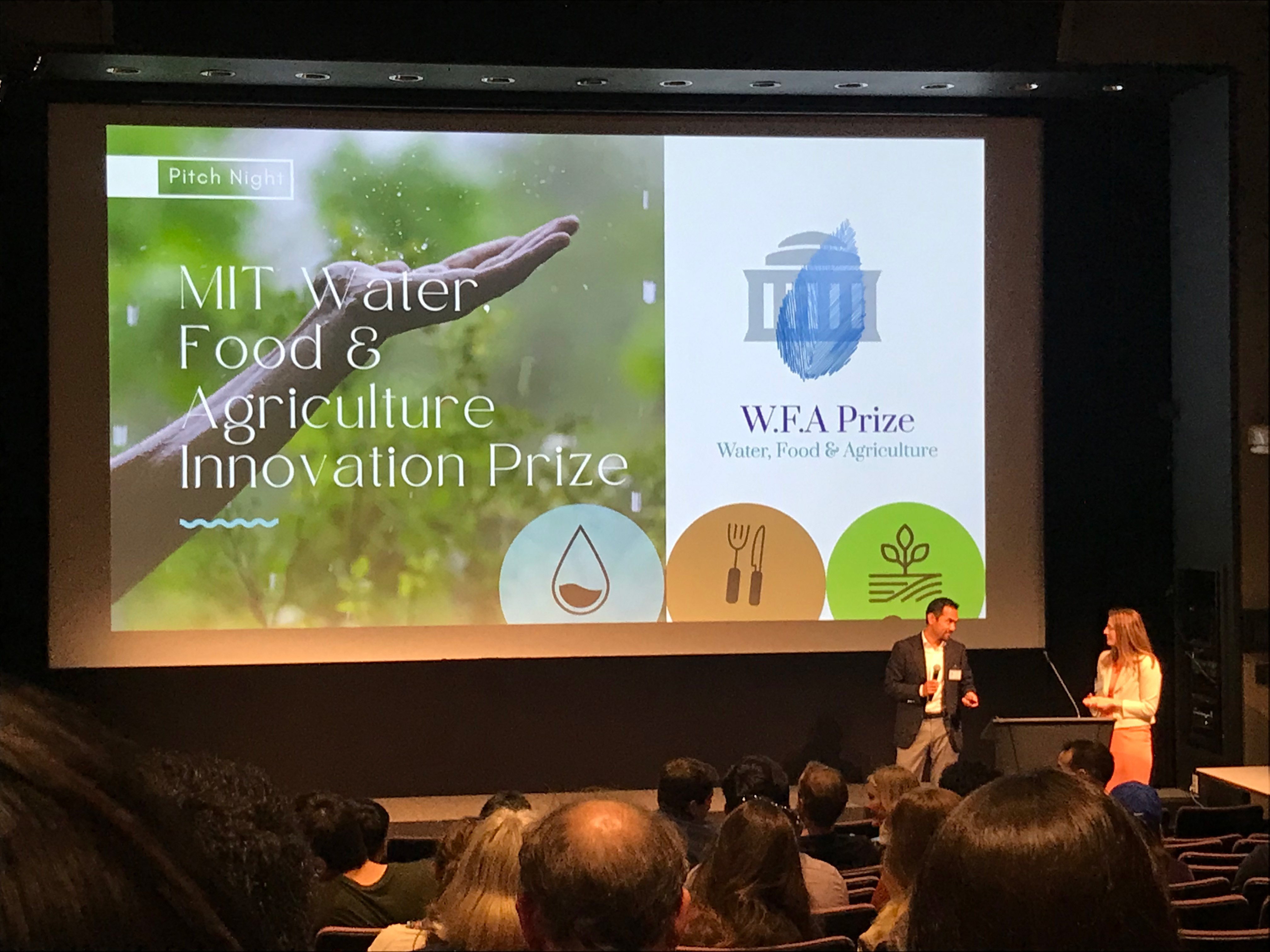 For the first time this year, the MIT Water Club and the MIT Food & Agriculture Club teamed up to offer a joint Innovation Prize. In years past, each club held their own prize competitions for student entrepreneurs working in water or food, respectively. For 2023, the clubs decided to join forces by organizing the inaugural MIT Water, Food & Agriculture (W.F.A.) Innovation Prize competition. Both clubs and the prize are supported in part by J-WAFS.
The W.F.A. Innovation Prize is a business plan competition for teams of university and graduate students from any college or university worldwide. The teams must have a technology, product, service, or process that is aimed at solving a problem related to water, food, or agriculture challenges. The competition encourages all approaches to innovation, from engineering and product design to policy and data analytics. The goal of the competition is to help emerging entrepreneurs translate research and ideas into businesses, access mentors and resources, and build networks in the water, food and agriculture industries.
Teams were to submit a statement of intent outlining their companies by March 20, 2023. After receiving over 150 applications from 13 states and 24 countries, the W.F.A. organizers selected seven top proposals based on feedback from external reviewers. Each of the seven teams were paired with a mentor to develop their business plans and pitches. On May 9, 2023, a final pitch event took place on MIT's campus where a representative from each team presented an overview of their startup and the problem in water, food, or agriculture that they are trying to solve. A group of five judges from venture investing, industry, and academia were able to ask questions of each team after their presentation. Below is a brief overview of the finalists in the 2023 MIT W.F.A. Innovation Prize.
AquaTerra Innovation
University: MIT
Presentation led by Stephen Tainter
Brine wastewater can result from the oil and gas industries, desalination plants, industrial processes, and chemical manufacturing. Unfortunately, brine wastewater is often discharged into the ocean or groundwater which significantly impacts water supplies and the environment. AquaTerra Innovation developed a wastewater treatment process that converts brine wastewater into clean water and carbon-negative chemicals.

Austere Environmental
University: Colorado School of Mines
Presentation led by Daniel Johnson
Austere Environmental is addressing the issue of contaminated soil due to oil and gas processing, solid waste disposal, or catastrophes like the recent derailment of a train carrying hazardous materials in East Palestine, Ohio. Austere Environmental's technology can clean soil of chemical contaminants like petroleum onsite. This makes their process quicker, cheaper, and more effective than other soil remediation techniques.

DetoXyFi
University: Harvard and MIT
Presentation led by Dhananjay Goel
Worldwide, one in three people do not have access to clean drinking water. DetoXyFi created a low-cost, compact, biodegradable, and rapidly deployable water filter made from waste wood. Backed by a decade of research and field tests, DetoXyFi provides clean drinking water for disaster relief, household water filtration, and other applications.

GEARigation
University: MIT
Presentation led by Carolyn Sheline
Gearigation has developed solar irrigation design software and a smart controller to help medium-scale farmers increase their profits. The technology uses artificial intelligence and weather station equipment to provide sustainable, affordable, precise agriculture with reliable, low-cost, predictive irrigation control.

PolyoseBio
University: Harvard and MIT
Presentation led by Makari Krause
PolyoseBio is a biomanufacturing platform that upcycles food waste, enabling a sustainable, circular food system. Using synthetic biology, metabolic engineering, and polymer chemistry, the platform pairs insects and precision fermentation to efficiently convert food waste into high-value chemicals.

Sygne Solutions
University: Rice University
Presentation led by Bo Wang
Known as "forever" chemicals, per- and poly-fluoroalkyl substances (PFAS), can cause health issues, such as cancer, asthma, or liver damage. Sygne Solutions aims to eliminate PFAS in water with their scalable, sustainable, patent-pending technology. The system uses UV light and non-toxic, earth-abundant-element-containing boron nitride-based materials with zero waste.

Tyree Tech
University: MIT
Presentation led by Jenny Yao
Tyree Tech uses microalgae to capture carbon dioxide emissions from industrial processes and turn them into high-value bioproducts. The process uses a photobioreactor to convert the carbon dioxide. Microalgae is used because it is sustainable and can be made into livestock feed additives. This offers a comprehensive solution for efficient and precise carbon-negative biological cell factories.
The event also consisted of a presentation from guest speaker Stephen Ritz, founder of the Green Bronx Machine, which is an organization that teaches students how to grow vegetables and prepare and cook healthy meals. He and his students have grown more than 165,000 pounds of vegetables in the South Bronx, were celebrated at the Obama White House three times, and have been featured on the cover of TIME for KIDS. His lively and engaging presentation underlined the importance of creating healthy, equitable, and resilient local food systems so that students can thrive both in and out of the classroom.
The teams were judged on their final business plans and pitches by the panel of judges who deliberated and awarded a first and second place winner. The audience was also able to vote for their favorite startup, which gave prize money to a third winning team.
The 1st Place Award of $30K and acceptance into Google Sustainable Startups went to Sygne Solutions
The 2nd Place Award of $10K went to DetoXyFi
The Audience Choice Award of $5K went to GEARigation
J-WAFS congratulates all of the finalist teams and the W.F.A. planning committee for all of their hard work pulling off a successful event!
Note: A few days after the W.F.A. final pitch event, first place winner Sygne Solutions, was also awarded $100,000 for 2nd Place in the 2023 Rice Business Plan Competition. Learn more: https://rbpc.rice.edu/2023/results

Find out more about each of the seven finalist teams in this video: