News
MIT students gain valuable insights from World Water Week and Xylem Experts
Orla Molloy September 15, 2023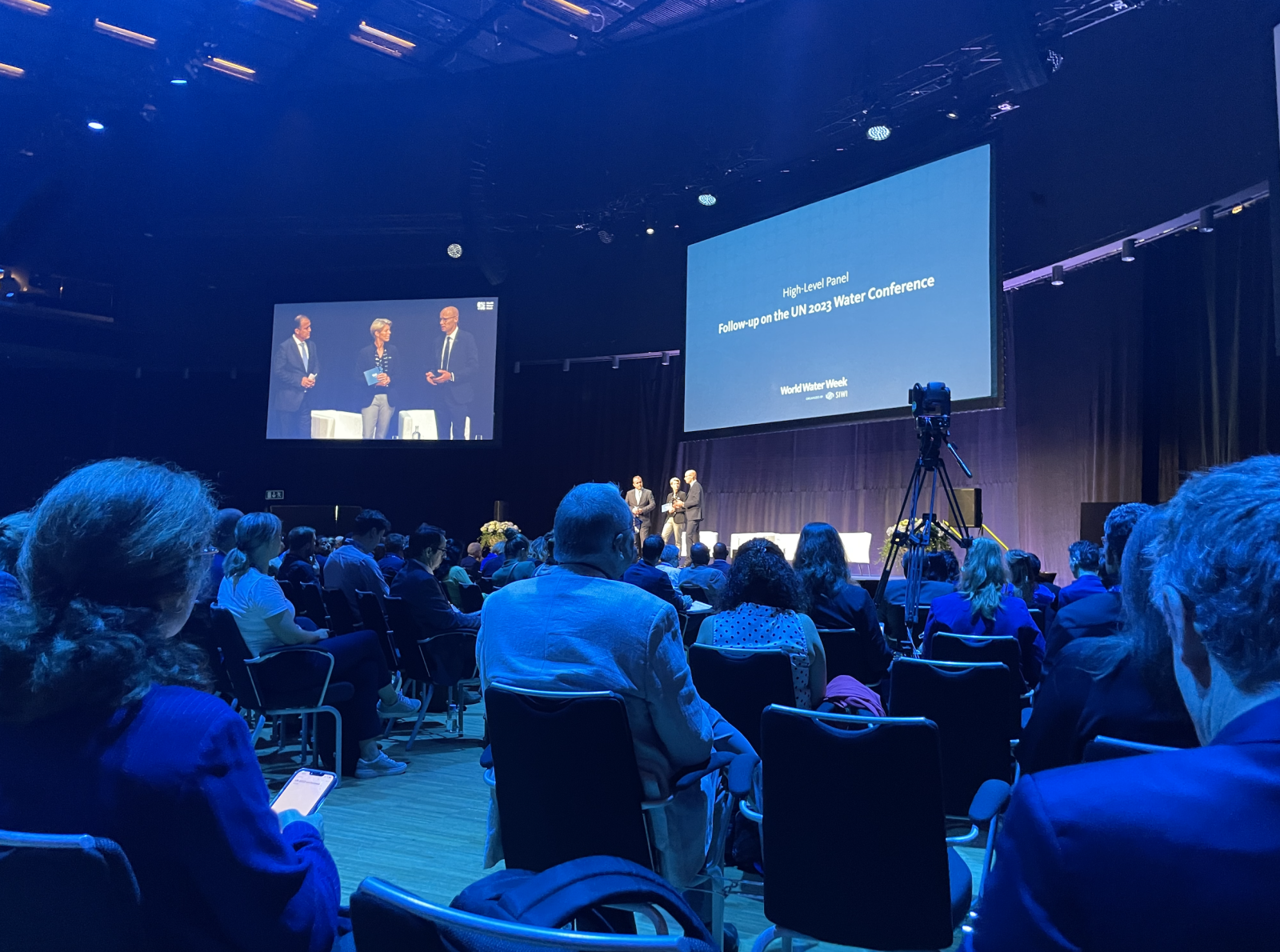 High-level Panel: Follow-up on the UN 2023 World Water Conference
J-WAFS offers travel grants for MIT graduate students to attend select international water conferences. This year, Smriti Bhaya, Chyna Mays, Arjav Shah, and Lizzie Yarina received grants to travel to Stockholm, Sweden for World Water Week in August. This year's conference saw almost 15,000 participants from over 190 countries and territories. The theme of World Water Week 2023 was 'Seeds of Change: Innovative Solutions for a Water-Wise World,' focusing on innovations in a time of unprecedented challenges.
The J-WAFS Travel Grant for Water Conferences is supported by J-WAFS Research Affiliates Xylem Inc. and GoAigua, two water technology companies. Xylem is also a global sponsor for World Water Week and offers opportunities for the Travel Grantees to engage with Xylem employees during a tour of the Xylem facility near Stockholm. The tour provides students with a unique opportunity to gain firsthand insights into Xylem's innovative approach and their applications for addressing real-world water challenges. This year's tour included learning about Xylem's work, visiting their research and development spaces, meeting the Stockholm Junior Water Prize finalists, and connecting with Xylem engineers and researchers.
The MIT students actively participated in World Water Week, engaging with experts, policymakers, and researchers from around the world. By attending sessions spanning a wide range of topics, from "Indigenous Voices in Water Governance" to "Scaling Up Solutions for Sustainable Wastewater and Nutrient Management: Nutrient Recovery from Wastewater," the MIT students gained invaluable knowledge to help shape their future contributions to the field.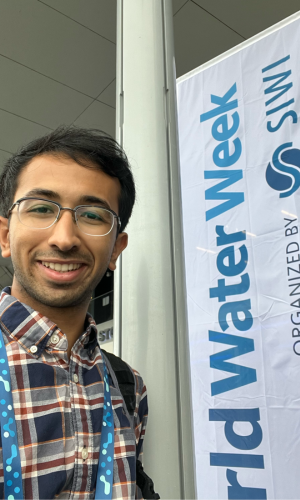 Arjav Shah with World Water Week banner at entrance to the conference
"Stockholm World Water Week 2023 was an eye-opening experience that left me inspired and motivated to contribute to the water problem with greater vigor and hope," says Arjav Shah, a PhD-MBA candidate in the Department of Chemical Engineering and Sloan School of Management. At MIT, Arjav is working to scale up commercialization efforts of sustainable hydrogel microparticles for the removal of micropollutants from water. At World Water Week, he was inspired by thought-provoking seminars and discussions. In particular, the opening ceremony provided an opportunity to "hear from water experts around the world on driving water innovation and planting seeds of change across the board, ranging from science, governance, finance, data and cooperation." Arjav adds, "the sessions and interactions strengthened my perspectives on the urgent need for acceleration through bias for action and catalytic community building to achieve the goals set by SDG 6 by 2030. It became increasingly clear that innovations in governance, data, capacity development, and financing will be the key to support the scale up of technological innovations and drive impact."
Throughout the week, Arjav found that the sessions prompted important questions and discussions about the practical application of technology at the interface of municipal and industrial water treatment, something he's hoping to explore during his tenure as a Legatum Fellow this fall.
At the end of the conference, Arjav was "struck by the call to action, urging everyone to contribute to a more sustainable water future." Furthermore, he was able to engage with Xylem employees and foster connections at various levels, including mentorship and guidance as he develops his spin out company, hydroGel, which aims to decarbonize water treatment using the hydrogel microparticle technology aforementioned. This research is currently being funded by a J-WAFS Solutions Grant. "The connections I made and the knowledge I gained will undoubtedly shape my future endeavors in the water sector," Arjav says. "It was an incredible experience…I could not have asked for a more enriching event."
For Chyna Mays, a PhD student in the Department of Biological Engineering at MIT, World Water Week provided an invaluable opportunity to consider direct applications of her research and how it can be implemented in the field while meeting water quality standards. Her work involves engineering yeast to sequester salts and metal contaminants from mine tailings and other water systems. A workshop Chyna attended that was particularly informative was "The Progress and Challenges in Monitoring Safely Managed Drinking Water Services," which was hosted by the World Health Organization. From this workshop, she gleaned knowledge about the various classifications of maintaining high quality drinking water and learned more about how samples are collected in the field, which allowed her to consider how she can do similar procedures for her thesis project.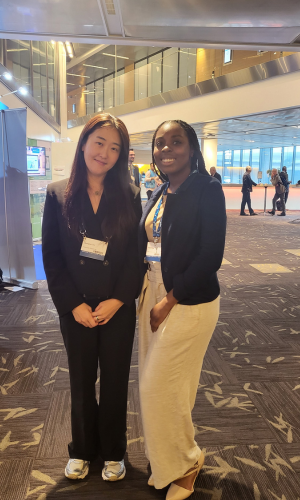 Chyna Mays with Seungeun Lee, a master's student from Germany also attending the conference
Another memorable aspect of the water conference for Chyna was the chance to connect with other students from around the world. "A personal highlight of my experience was engaging with peers who are each passionate about various aspects of water," Chyna notes. "I met several graduate students from various countries," Chyna says. "Globally, young students are trying to address water issues in their own way, and it is hopeful seeing various people attempt to address critical issues."
A memorable interaction at the conference was lunch with a master's student from Germany, Seungeun Lee. "Like myself, she attended this conference to learn more about critical water issues, and she hopes that this conference will be inspiration for her thesis topic," Chyna says. "I enjoyed learning about her experience as an international student from Korea who is now doing her master's in Germany. We both share similar interests, and it was nice to chat with someone in my age group."
Chyna was also motivated by young students' innovations for the Junior Water prize. "It was inspiring to see young students' inventions that were designed to solve either local or global water issues," says Chyna. "As mentioned by the host in the Royal Award Ceremony, it is of great importance for past and current generations to collaborate and listen to one another to create a sustainable future."
Reflecting on her experience at the conference, Chyna emphasizes the importance of "collaboration, innovation, and inclusivity [that] are necessary to address global water issues." With knowledge from the conference, she aims to align her research with global water priorities and legislation to implement non-traditional solutions for water remediation.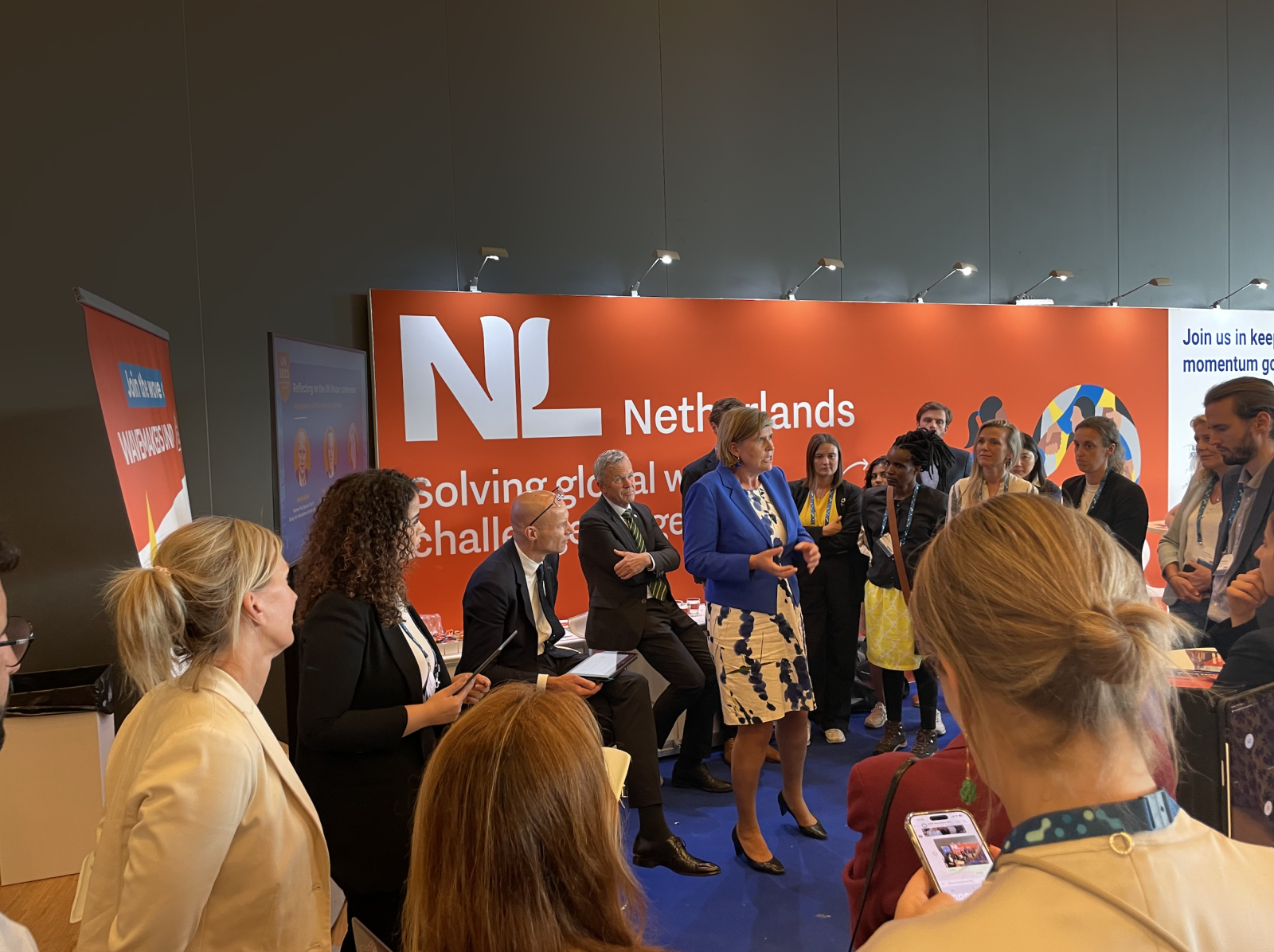 Meike van Ginneken, the new Dutch Special Envoy for International Water Affairs, speaks to a crowd of people
Lizzie Yarina, a PhD candidate in the Department of Urban Studies and Planning, also found conversations with others at the conference memorable. Lizzie is researching the spatial politics of climate change adaptation in Vietnam's Mekong Delta region, an area facing many water challenges. She attended the participatory discussion-led workshop "Using Scenarios to Chart the Future of Water and Agriculture." Regarding the workshop, she says: "We had a group of four around the table, all from different countries and backgrounds. It was really interesting to compare our experiences with water-related issues in the places where we're from, and it was a very refreshing conversation."
In addition to hearing from conference attendees of diverse backgrounds, Lizzie had the opportunity to expand her professional network. An "outcome over the last several days that has been exciting is learning that the professional community is interested in the results of my research," she says. "I'm continuing to build my network of research contacts."
Lizzie found that the panels she attended were helpful for her dissertation research. In particular, she found the Stockholm International Water Institute (SIWI) seminars on river basin management informative for her research. "The panels gave me insight into how these institutions' approaches impact the Mekong Delta, my dissertation research site," Lizzie says. Yet Lizzie notes how high-level conversations at conferences like World Water Week don't necessarily translate into executed solutions, "it's interesting to compare these conversations to what I've seen on the ground during my research where I think the ideas don't always make it into practice." However, Lizzie leaves World Water Week hopeful she will be able to translate her research into practice. "As I get back into my dissertation writing, it will be interesting to tease out these differences," says Lizzie.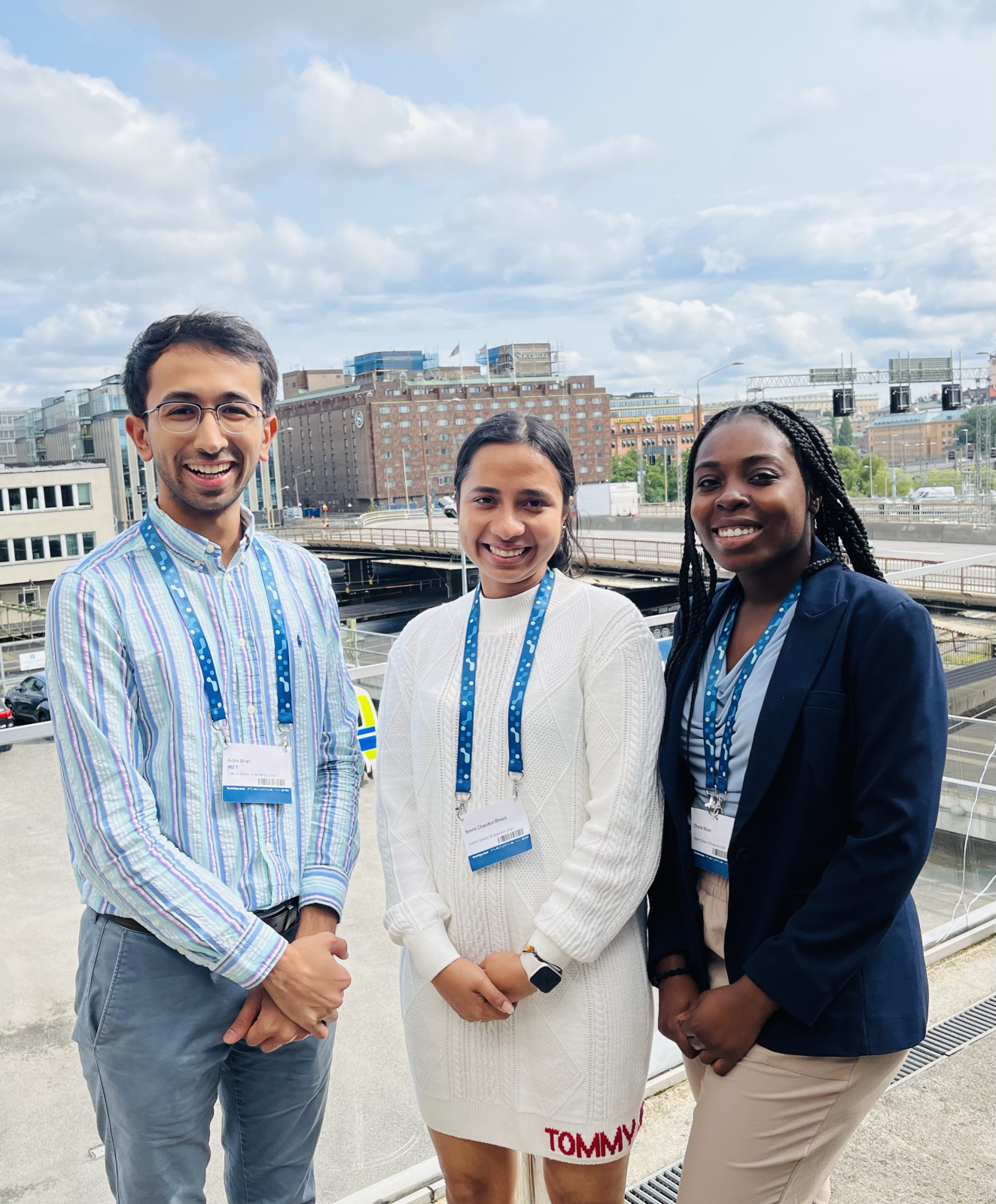 From left to right: Arjav Shah, Smriti Bhaya, and Chyna Mays
As a master's student in the Department of Urban Studies and Planning, Smriti Bhaya's research focuses on water management and flood risk mitigation strategies for developing contexts. While some of the sessions she attended related directly to her research area, others exposed her to new areas and opportunities in the field of water solutions. "I really enjoyed the session on 'The Voice of SMEs: Better Enabling These Seeds of Change' as it introduced me to several [small to medium-sized enterprises, or SMEs] across the world that are working on innovative and scalable solutions to close the service gap in water supply and sanitation," says Smriti. "One of the panelists, Diviya Yachamaneni from Naandi Community Water Service, a SME providing clean drinking water at a community scale in India, spoke about the training programs they conduct to ensure their teams are well equipped to handle the difficulties of collaboration with local municipalities." For Smriti, anecdotes she heard at the conference like that of Diviya Yachamaneni's are extremely relevant to help social enterprises navigate global water challenges.
Like Chyna, a highlight of Smriti's week was interacting with the finalists for the Stockholm Junior Water Prize competition and learning about their innovations in the water sector. Smriti reflects, "it's both important and reassuring to have youth that are passionate about creating systems change towards water access."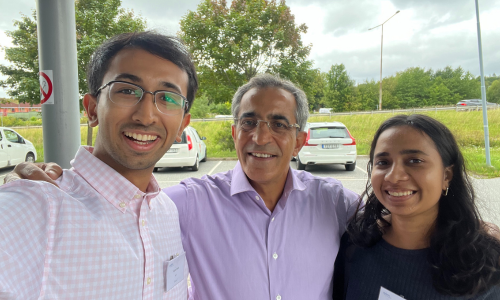 Arjav Shah and Smriti Bhaya with Hayati Yarkadas, Xylem's Senior Vice President and President, Europe, Water Infrastructure and Global Services
One of the most rewarding aspects of the conference for Smriti, was the interactions with her fellow Travel Grantees: "I enjoyed the conversations with my fellow MIT students Arjav, Chyna, and Lizzie the most, learning from their experiences and expertise and following the work that each of them is doing." Smriti continues, "The [week's] events and encounters have left me with a renewed sense of purpose to support the work I am doing and have opened gateways into creating scalable impact I had very little idea of before."
A key experience for all of the students was the opportunity to tour Xylem's nearby facility. "I gained a very thorough understanding of the process of production, design and functioning of their water pumps [and] their focus on increasing efficiency to minimize pump damages," says Smriti. Arjav adds, "the tour was a great mix of learning about Xylem's work, visiting their R&D spaces for pumps, meeting the Stockholm Junior Water Prize finalists, and meeting wonderful people at Xylem."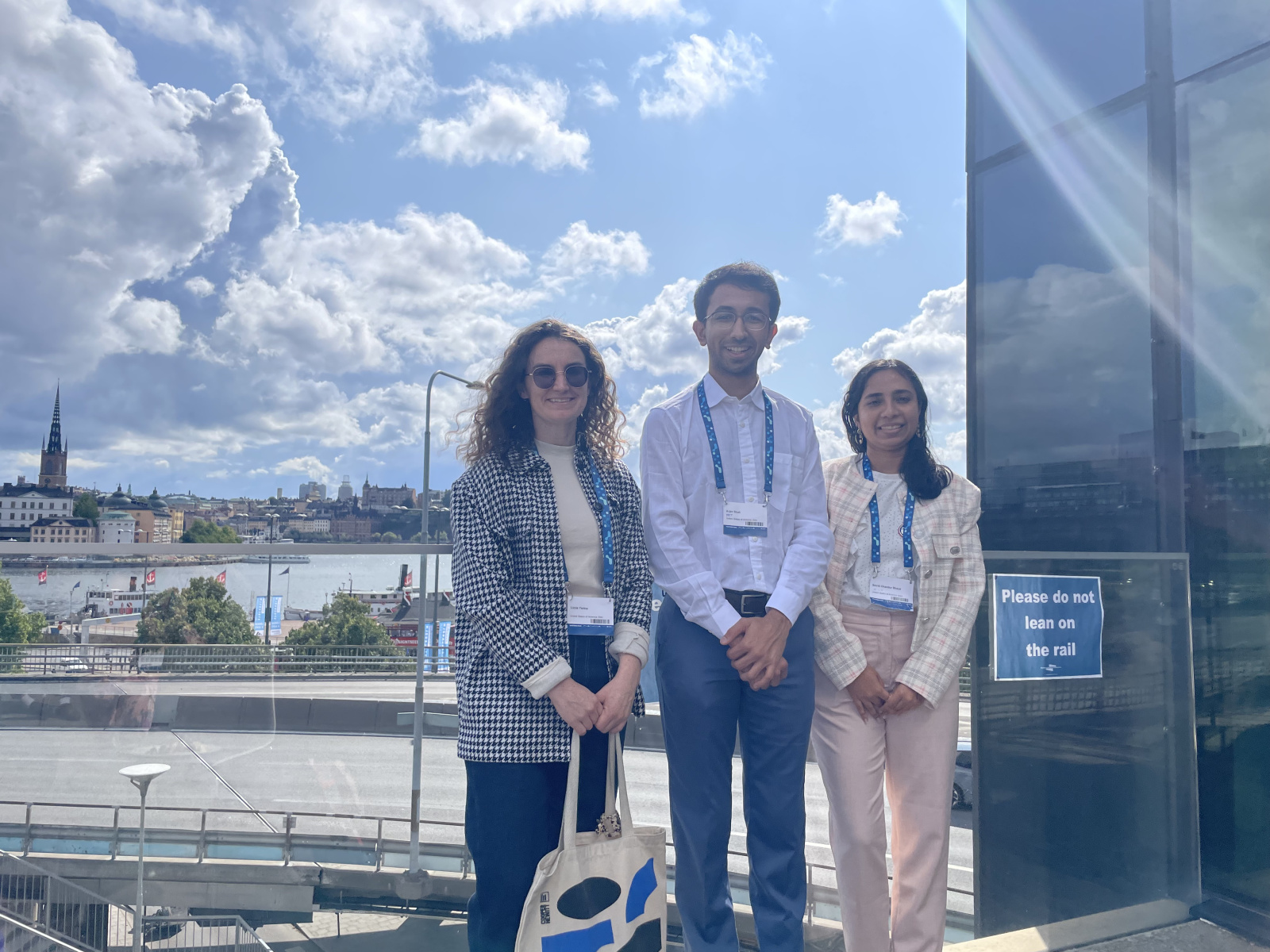 From left to right: Lizzie Yarina, Arjav Shah, and Smriti Bhaya standing in front of Stockholm skyline
At the end of World Water Week, the MIT students returned to campus equipped with inspiration, connections, and lessons from their time in Stockholm. Through seminars, workshops, panels, and discussions with experts from around the world, the students gained invaluable insights to help shape their academic and professional trajectories. "This enriching experience would have not been possible without the support from Xylem and GoAigua," says Chyna Mays. "Heartfelt gratitude to both entities for funding the opportunity to attend Stockholm World Water Week."
J-WAFS, Smriti Bhaya, Chyna Mays, Arjav Shah, and Lizzie Yarina would like to thank Xylem, Inc. and GoAigua for their generous support of the Travel Grants to attend World Water Week 2023. Additional thanks to Xylem for their engagement, mentorship, and facility tour.