News
J-WAFS students come together for World Water Day Event 
MIT PhD students describe their water-related research to their peers
Carolyn Blais, J-WAFS March 20, 2023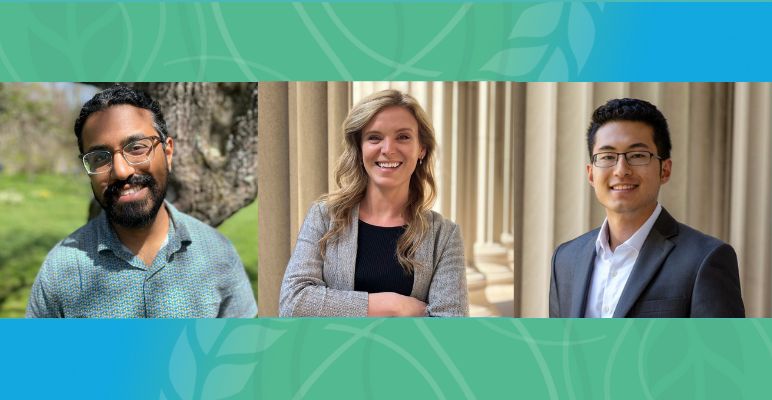 Gokul Sampath, Carolyn Sheline, and Jonathan Bessette
To celebrate World Water Day, J-WAFS hosted a student presentation a day prior on Tuesday, March 21, 2023. MIT students in the J-WAFS community came together for a networking lunch and to listen to presentations from three of their peers. The event was well attended by mostly PhD students. Many of the students reported that they value these opportunities to learn from one another and to engage with those doing research in other disciplines who are also motivated to address the world's water challenges.
Gokul Sampath, a PhD student in the Department of Urban Studies and Planning, spoke first. He is studying international development and planning, and currently working on water access and quality in developing countries, mostly in Southeast Asia. Sampath uses archival, spatial, and econometric methods to understand who gets access to water and how. He explained that in rural India, much of the water supply is contaminated with arsenic, so his research seeks to answer the question, "what will motivate households to walk further to obtain water that is safe?" He found that households are more likely to chose safe water sources when the person fetching the water is well informed, and most often in rural India, that person is the grandmother of the family. To further his research, Sampath attended World Water Week in Stockholm, Sweden in August of 2022, as a J-WAFS Travel Grant recipient,. There he acted as a J-WAFS representative while attending sessions and lectures on a variety of water issues.
As a PhD student in the Department of Mechanical Engineering, Carolyn Sheline works with J-WAFS PI Amos Winter in the Global Engineering and Research Lab or GEAR Lab. Her interests include renewable energy, AI, medical devices, and mechanical systems design. For the past few years Sheline has been developing a low-cost and water- and energy-efficient drip irrigation system for farmers in the Middle East and Africa that can help protect their limited supply of freshwater. She described how she traveled to Kenya, Jordan, and Morocco to better understand the needs of farmers there. Those experiences led to the creation of a tool used to optimize the design of solar-powered drip irrigation systems as well as an affordable controller that predicts the water and energy needs of the system and mitigates overwatering. In 2020, Sheline was part of a team that won first place for this project in the J-WAFS World Food Day Video Competition.
Jonathan Bessette is a mechanical engineering PhD student working on desalination. He also works with Professor Winter, and like Sampath he too was a 2022 J-WAFS Travel Grantee who attended World Water Week. Bessette focuses on the design and control of small-scale rapidly deployable desalination systems. He presented his recent work which has led to the minimization and elimination of batteries in direct-drive renewable electrodialysis desalination. This kind of work has applications in humanitarian aid missions, disaster relief, and migrant camps. Because of this, such systems must be robust, reliable, independent, and flexible to harsh environments.
In the future, J-WAFS looks forward to hosting more events like this one, where students can gain valuable insights into water and food-related issues and research.