News
The J-WAFS-led FACT Alliance hosts workshop on the future of food security
"Strengthening Science-to-Action Collaboration for Food Systems Transformation in an Uncertain Climate" marked the FACT Alliance's first organized workshop which took place September 27-29, 2022. 
Carolyn Blais, J-WAFS October 5, 2022
Participants of the workshop in a breakout discussion 
Climate change and global food systems are interacting in ways that are driving political and economic instability and threatening future food security. While important food systems research is taking place at universities and other institutions, much of it does not find its way into the hands of decision makers and stakeholders. To strengthen the linkages between science and action, the J-WAFS-led Food and Climate Systems Transformation (FACT) Alliance hosted a workshop called "Strengthening Science-to-Action Collaboration for Food Systems Transformation in an Uncertain Climate." The workshop was held from September 27-29, 2022.
Recent news stories, visually illustrated on this new FACT Alliance interactive Google Earth web tool, shed light on the dire state of global food systems by detailing real-life instances of crop failure, heat waves, drought, floods, wildfires, supply chain disruptions, acute malnutrition, and famine. The stories display how climate change, extreme weather events, and geopolitical turmoil are driving food insecurity around the world, making evident the need for the FACT Alliance. Formally launched at the COP26 climate conference in November 2021, the FACT Alliance is a network of institutions that are collectively working to drive research and inform better decision-making for healthy, resilient, equitable, and sustainable food systems. "Strengthening Science-to-Action Collaboration for Food Systems Transformation in an Uncertain Climate" marked the FACT Alliance's first organized workshop. Outcomes from the workshop will lay the framework for the FACT Alliance to conduct collaborative, transdisciplinary, action-orientated research for improving food systems worldwide.
Approximately 70 attendees from over 40 global organizations traveled to Cambridge, Massachusetts for the workshop. Participants and speakers included researchers, stakeholders, policy makers, and other professionals working in food systems, agriculture, and nutrition. Their organizations spanned academia, government, non-profits, NGOs, farmers' organizations, intergovernmental agencies, and the private sector. Importantly, representatives from the Global South participated as speakers and panelists, adding a critical voice to the conversation.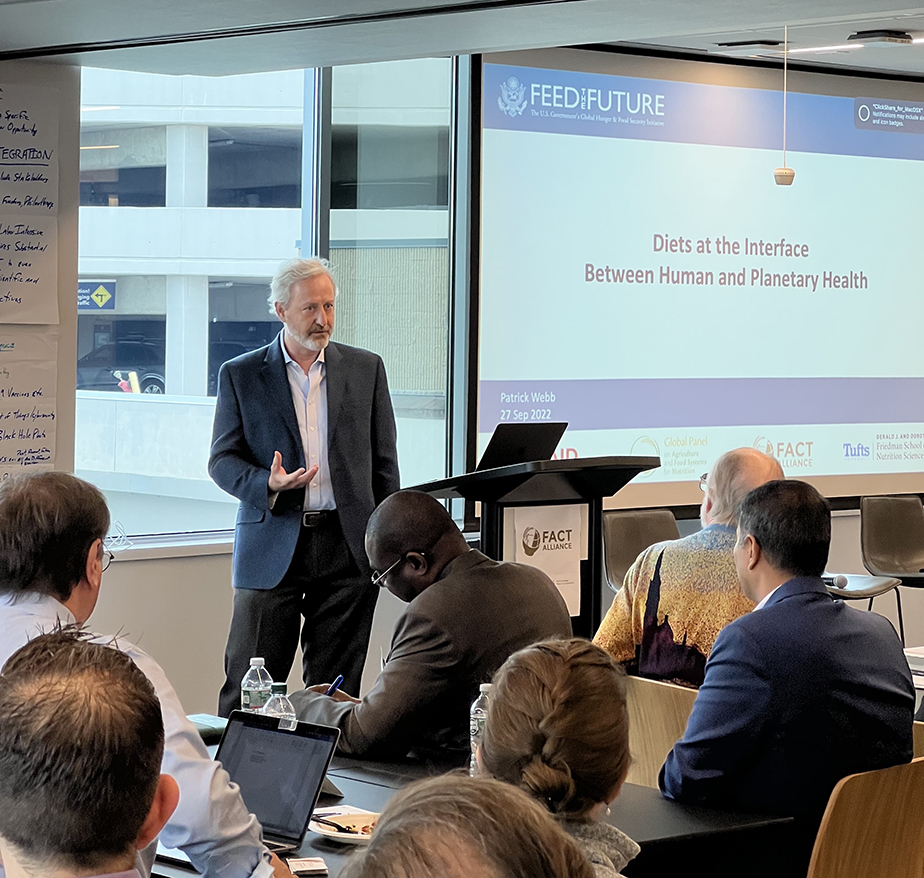 Patrick Webb
The morning of day one of the workshop focused on the theme of "Diets, Nutrition, and Health" and included a keynote address from Patrick Webb, a professor at Tufts University.
Webb spoke about the impacts of dietary patterns on human and planetary health. He also emphasized the interactions between greenhouse gas emissions and nutrition. Webb suggested that the FACT Alliance may be able to play a key role in providing a better understanding of how equity and social justice issues account for inequality in affordability of healthy diets.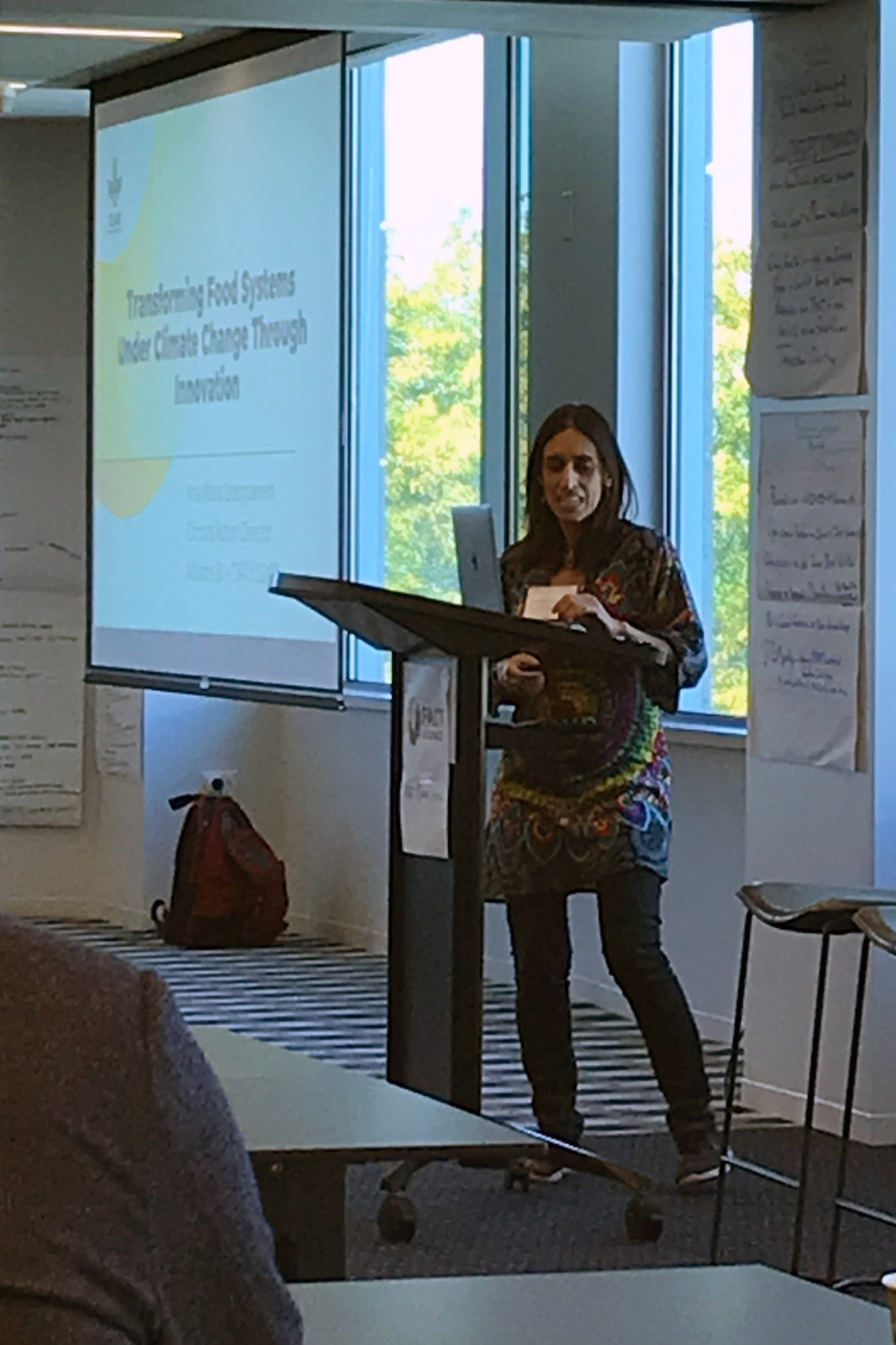 Ana Maria Loboguerrero
In the afternoon, participants heard from Ana Maria Loboguerrero, the research director of climate action for the Alliance of Bioversity International and International Center for Tropical Agriculture – CGIAR. Loboguerrero spoke about the need to transform food systems under climate change through innovation. She noted that when it comes to food and agricultural research, there is "much analysis, but action paralysis." In other words, while climate impact studies of agriculture have improved the knowledge base, they have not always resulted in implemented solutions. Loboguerrero urged researchers to conduct research in a different way by creating more strategic agendas, involving stakeholders from the start, and measuring success by whether or not the research has been able to benefit society in tangible ways.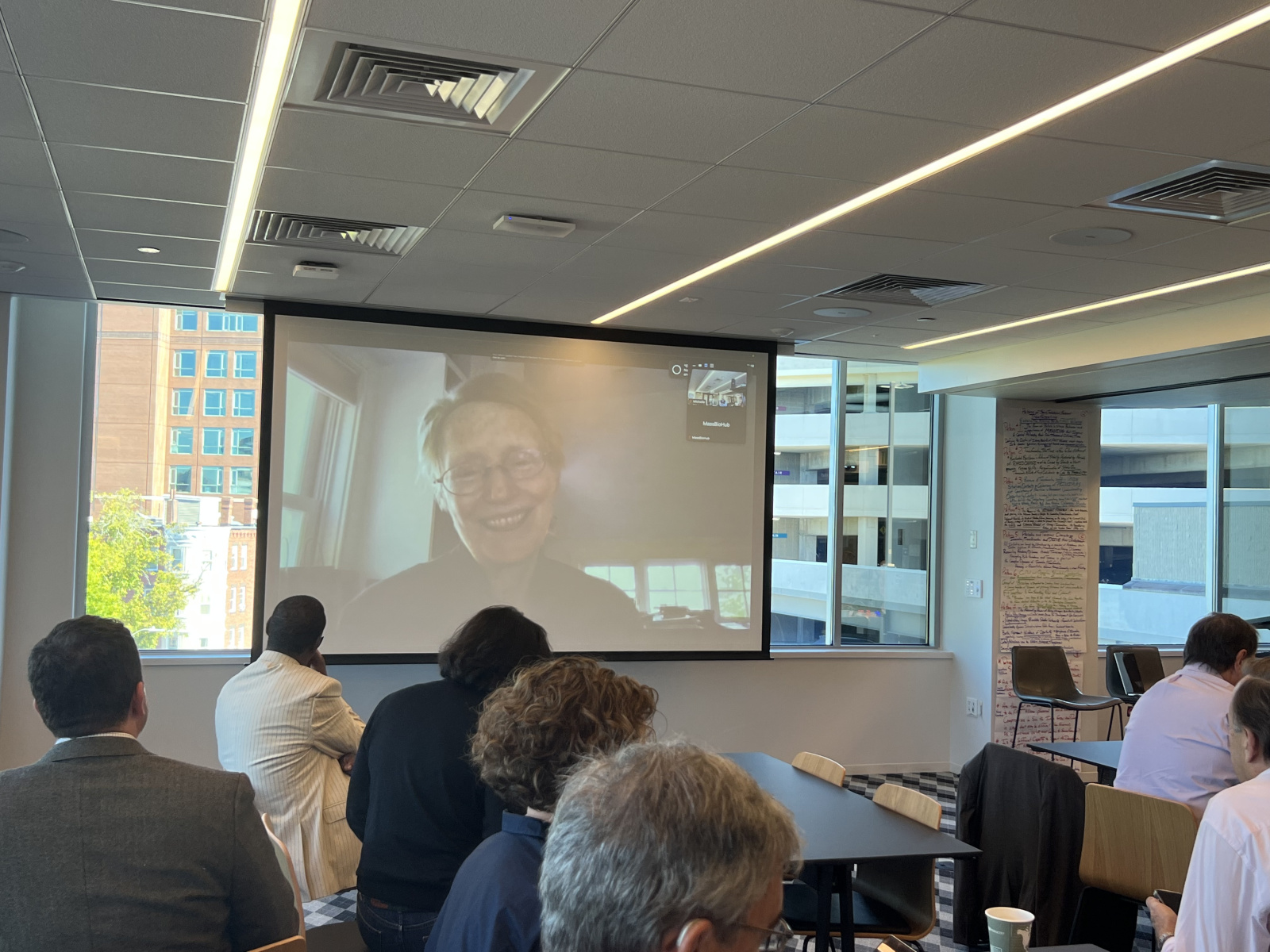 Cynthia Rosenzweig
Day two of the workshop opened with a keynote address from Cynthia Rosenzweig, a senior research scientist at the NASA Goddard Institute for Space Studies and the co-located Columbia University Climate School's Center for Climate Systems Research. Rosenzweig is also the 2022 winner of the World Food Prize and co-founder of the Agricultural Model Intercomparison and Improvement Project (AgMIP). She explained how AgMIP is used to test agricultural technologies and practices around the world with the goal of enhanced science-based decision making. The model evaluates crop yield projections given climate change impacts and can attune for specific regions and commodities. In fact, AgMIP has developed regional, integrated assessments which are stakeholder-driven, transdisciplinary, and multi-scale, with distributional results. Rosenzweig's work is vital for building capacity on the ground in order to engage with stakeholders for agricultural development. "Stakeholder engagement is absolutely essential throughout the entire assessment process so change can actually happen," said Rosenzweig. With AgMIP, stakeholders and researchers alike can glean insights into how different agricultural technologies might increase income and decrease poverty.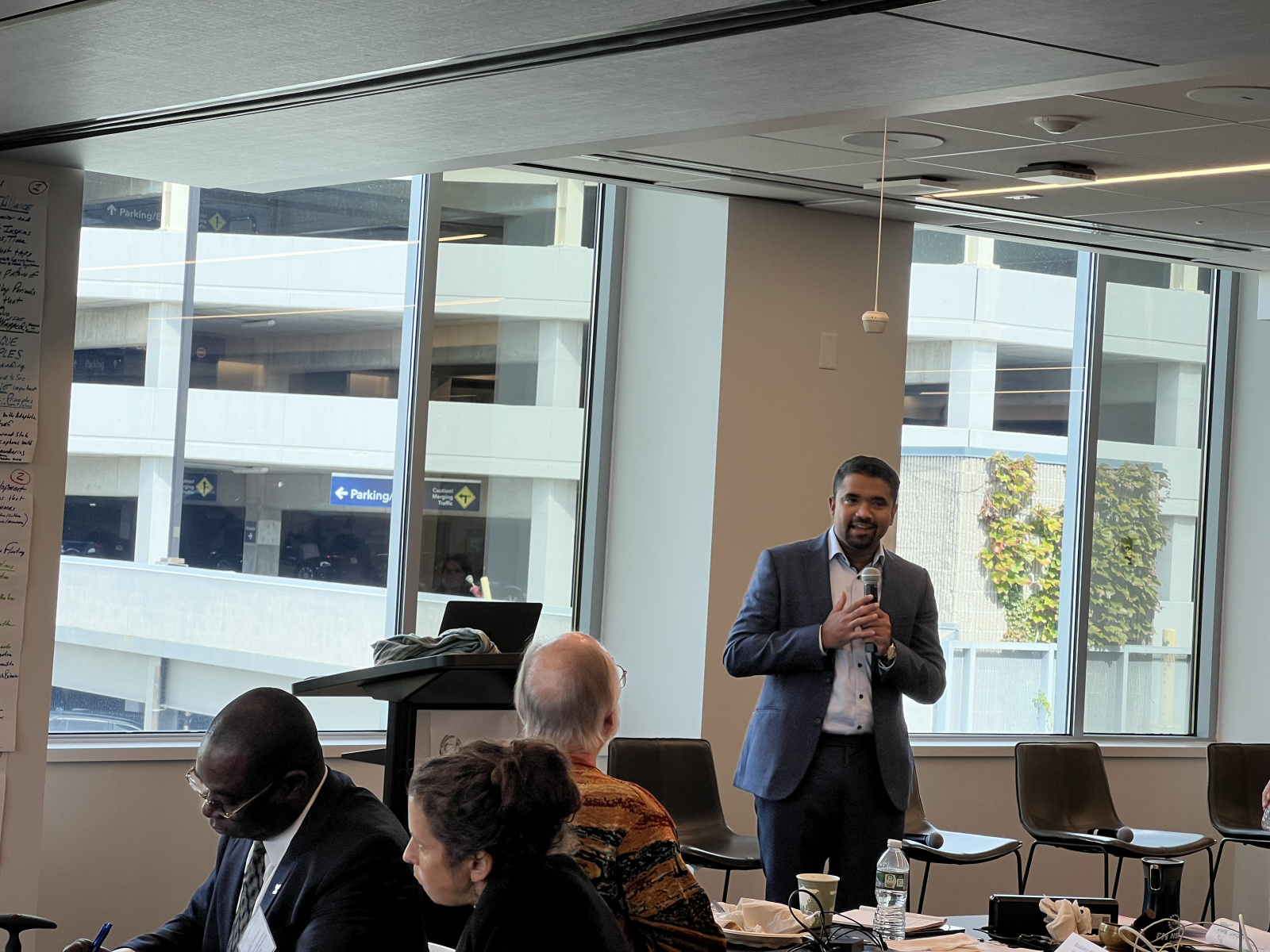 Dhanush Dinesh

The last keynote address was given by Dhanush Dinesh, founder of Clim-Eat, a Netherlands-based "think and do tank" that aims to "accelerate the just transition to resilient and low-emission food systems in low- and middle-income countries." Dinesh mentioned that new initiatives are needed to catalyze action by bringing people together in science and policy. His theory of change involves improvements in six areas: thought leadership, knowledge sharing, ongoing engagement, targeted advice, and convening of global stakeholders. Dinesh said that in order to see different results in food systems, there needs to be more thinking outside the box and more risk taking.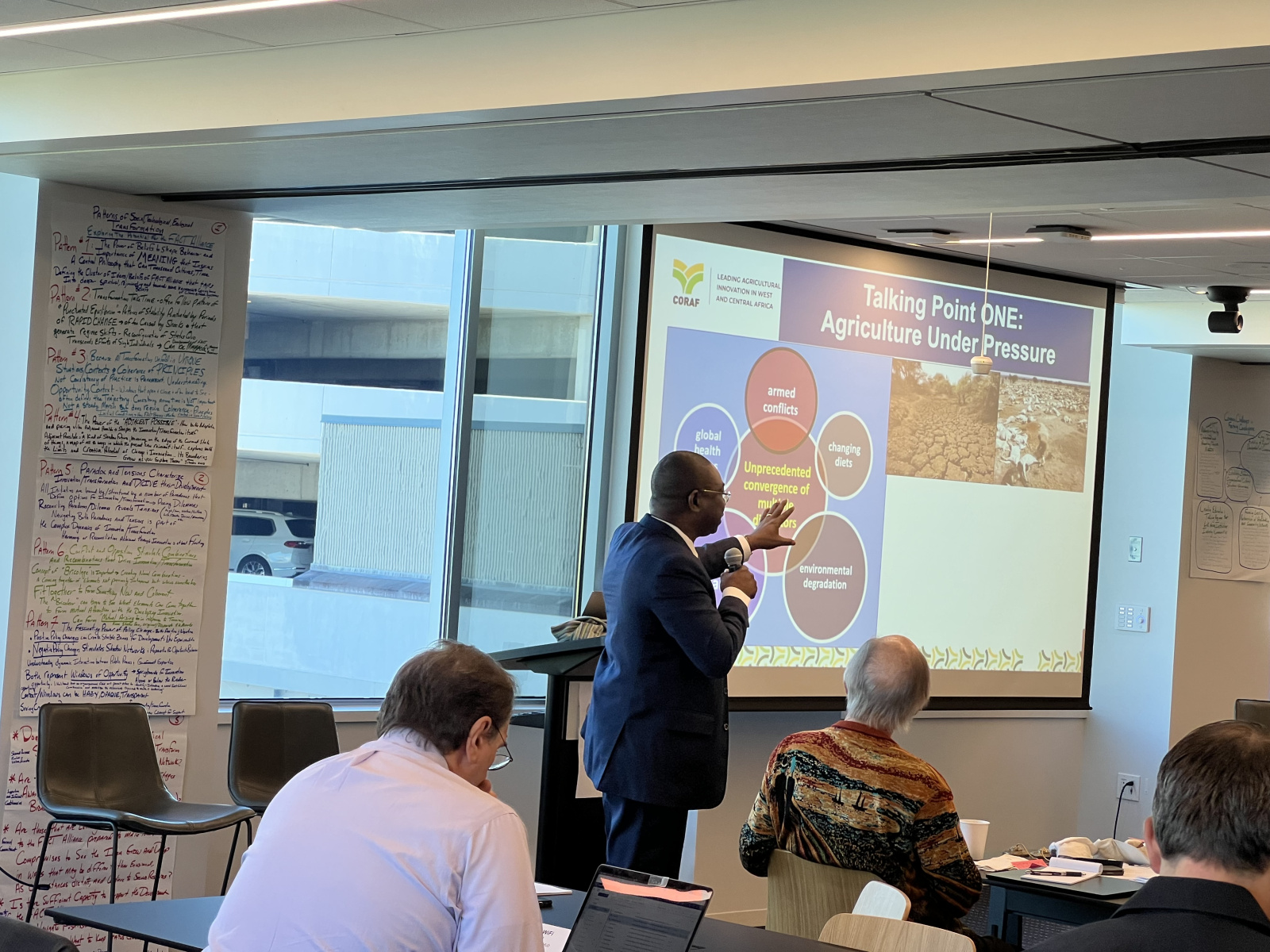 Abdou Tenkouano
Other speakers included Abdou Tenkouano, executive director of CORAF, the West and Central Africa Council for Agricultural Research and Development. CORAF is an international non-profit based in Dakar, Senegal, made up of institutions from the Association of National Agricultural Research and Development. Tenkouano spoke about harnessing partnerships in the "discovery to delivery" ecosystem in West and Central Africa. His presentation showed that armed conflicts, changing diets, environmental degradation, climate change, and global health issues are all putting great strain on agriculture. He noted that these disruptors are interconnected and cannot be addressed in isolation. To begin solving issues in agriculture and food "we should listen to those that live the problems and who have the most at stake in solving the problems," Tenkouano said. He went on to say, "the vehicle for delivery on this mission will be partnership-based international agricultural research-for-development." Coordination among partners will help ensure scalable solutions across borders, thereby offering solutions for all of Africa, not just certain countries or regions.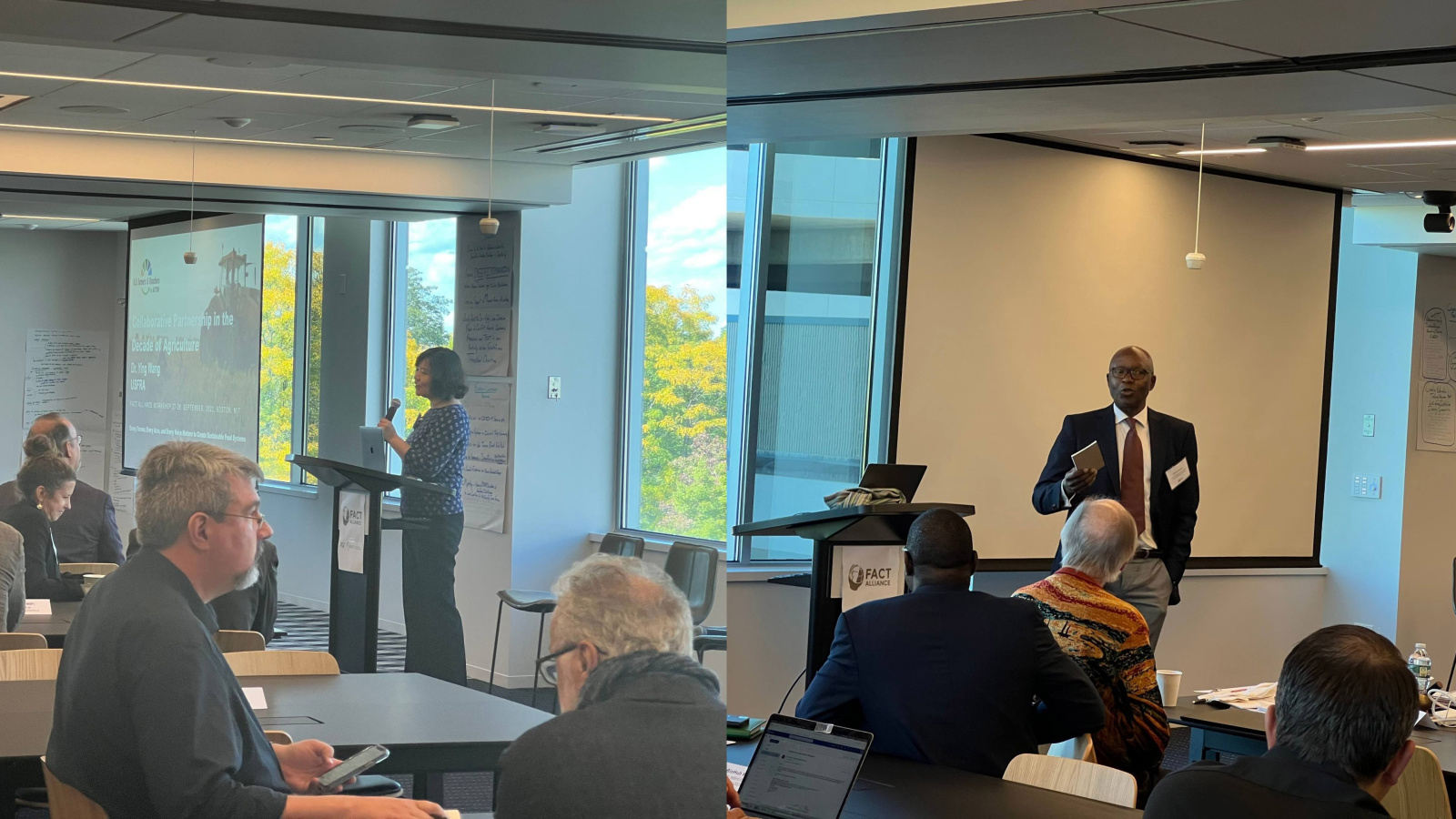 Ying Wang (L) and Ishmael Sunga (R)
Other presenters like Ying Wang and Ishmael Sunga spoke about their roles working directly with farmers. Wang is the science director for U.S. Farmers and Ranchers in Action and Sunga is the chief executive officer of the Southern African Confederation of Agricultural Unions (SACAU). Both organizations represent farmers and both Wang and Sunga addressed the need to align research with farmers' needs. Wang refers to herself as an "information broker" who helps communicate the latest scientific research to the farmers and stakeholders. "Farmers are engineers on their own field" she said. Sunga's organization focuses on bringing climate-smart, digital solutions to farmers' problems. He explained that we "need to do research with farmers, rather than for farmers."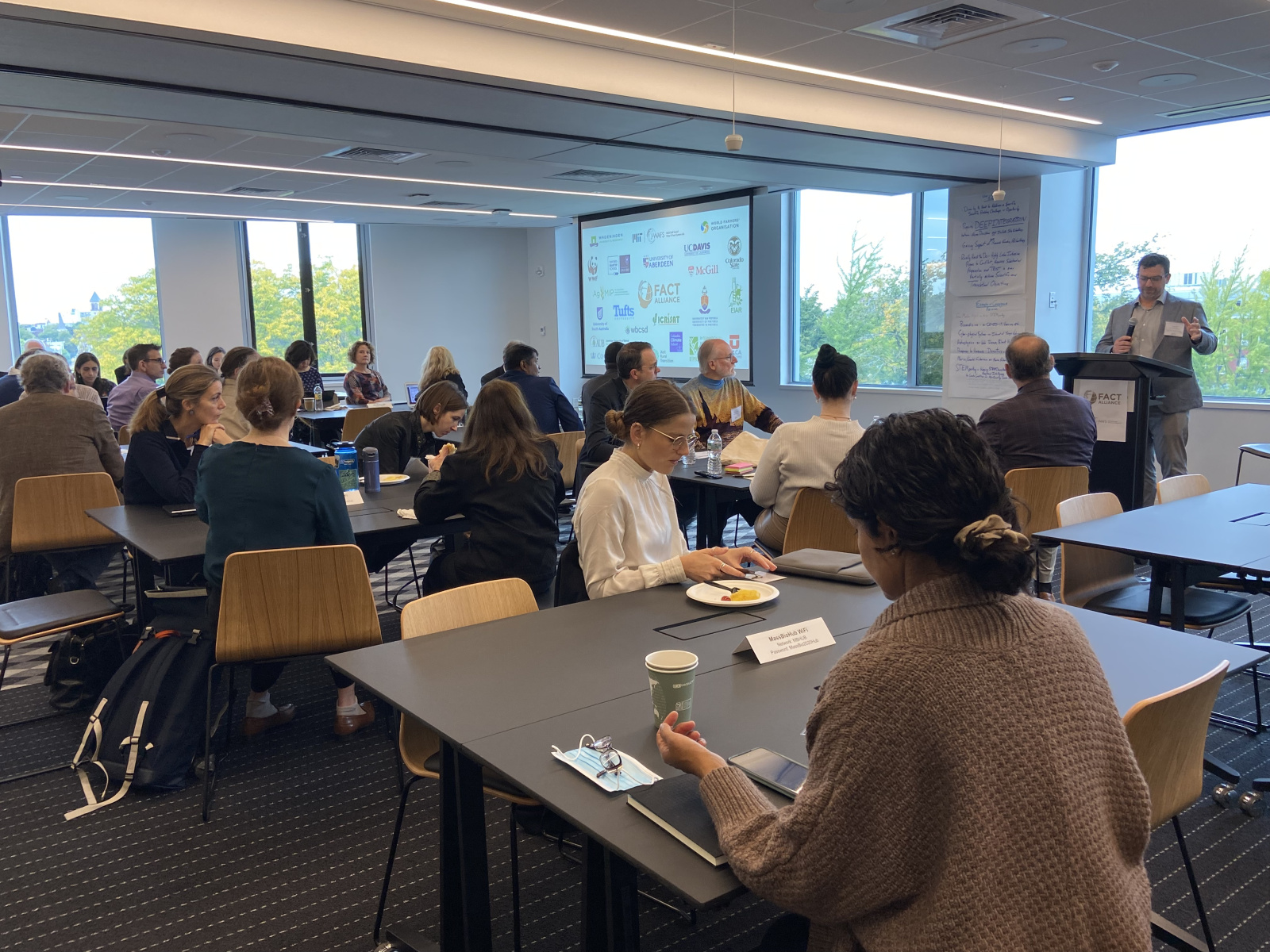 Greg Sixt addresses the group
The many informative presentations were interspersed with numerous breakout sessions, in which participants engaged around targeted questions related to research needs and opportunities for engagement. Next steps for the FACT Alliance involve compiling feedback and findings from the workshop, and subgroups have been charged with further developing FACT activities and a set of identified research areas. FACT Alliance director, Greg Sixt, will also be attending COP27 next month to gather additional knowledge and report out key findings from the workshop, at a side event co-hosted with the University of Oxford, Tropical Agricultural Research and Higher Education Center (CATIE), and Inter-American Institute for Cooperation on Agriculture (IICA).
To learn more about all of the speakers from the workshop, click here.