News
 J-WAFS co-hosts independent food systems summit dialogues  
Carolyn Blais, J-WAFS August 13, 2021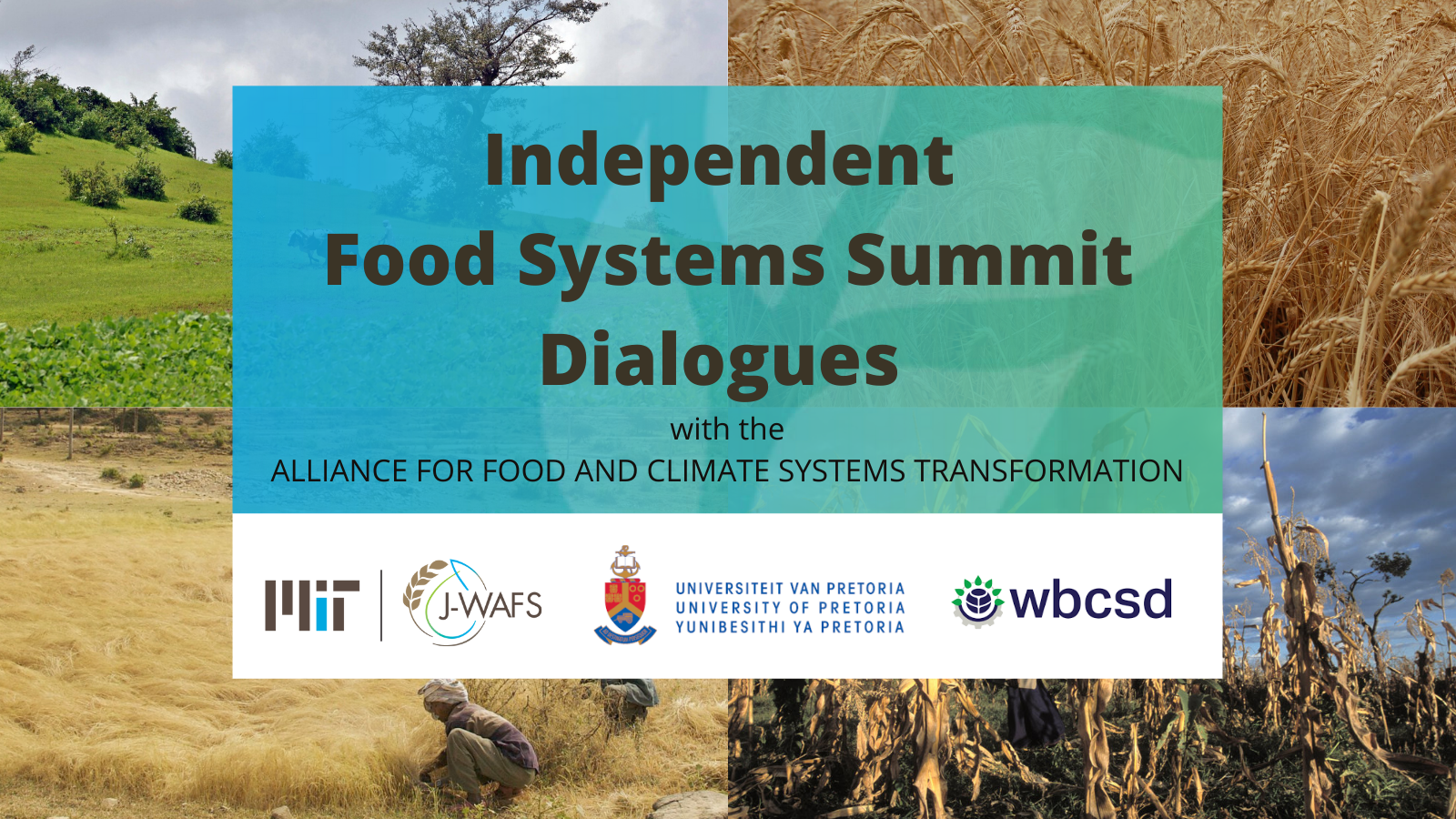 The J-WAFS-led Alliance for Food and Climate Systems Transformation recently co-hosted two Independent Food Systems Summit Dialogues with the World Business Council for Sustainable Development and the University of Pretoria, South Africa. Encouraged by the United Nations in advance of the 2021 Food Systems Summit, the dialogues are intended to engage people across the globe, especially those working on the front lines of food systems, by providing them an opportunity to have their voices heard. The online dialogues included keynote addresses from experts in food systems transformation, as well as thought-provoking panel discussions and breakout sessions.
The first dialogue, Using Data for Food Systems Transformation, took place on June 30, 2021. It sought to highlight the importance of monitoring and evaluating food systems data in government, private sector, and other applied contexts. The discussion also identified some of the critical gaps and challenges where stakeholders need additional information to effectively track progress against food system transformation goals. Some key takeaways included:
More of a "data interaction" rather than just a data collection is needed for famers and producers at the front lines.
Improved coordination of data sharing would be beneficial to all stakeholders. Particularly during emergency situations like drought or famine, data-sharing models should be developed so that agencies can effectively cooperate and deploy aid.
Better adaptive management for data and evidence systems will help ensure more proactive response to variable food system needs.
To build effective data systems, we need to understand the end user, who the decision makers are, and what types of outputs they will listen to.
We need more refined metrics and data for measuring food systems transitions, especially on the consumption side.
Further work developing and integrating datasets, including aligning data across scales, will allow us to develop a greater systems understanding.
The second dialogue, Monitoring and Evaluation for Food Systems Transformation, took place on July 7, 2021. This event engaged monitoring and evaluation experts, food and climate systems modelers, and data scientists for in-depth discussions on synergies as well as gaps among data used for monitoring and evaluation in different components of the food system. Noteworthy findings include:
Big data should be harvested effectively and responsibly. Bioinformatics on food systems can be used to harness this data.
We need to better collect and aggregate data from diverse stakeholders, and develop protocols for data sharing, ways of working together and building trust.
Standardization and scalability of data will help create more uniform food systems monitoring processes that can be applied across different sectors or domains.
Food systems research must be participatory and inclusive of all people, especially those who are most affected or could most benefit by food systems transformations. More social science, as well as indigenous and citizen knowledge should be integrated into natural science teams to work across research silos.
Key gaps in monitoring and evaluation in food systems include nutritional monitoring beyond weight and height; the role of biodiversity in food production; nitrogen and phosphorus content in soils; and transportation and processing issues.
The UN Food Systems Summit is scheduled to take place sometime in the fall of 2021 with exact dates to be announced. For now, these dialogues served as a good starting point in kicking off initial conversations about how to improve various aspects of food systems. According to Greg Sixt, J-WAFS research manager for climate and food systems and co-organizer of these two dialogues, "These discussions provided diverse viewpoints and thoughtful conversations that allowed us to outline a framework for how food systems can be improved in the near future." Sixt directs the Alliance for Food and Climate Systems Transformation, an MIT J-WAFS-led global network of 16 leading research institutions in collaboration with stakeholder organizations working at the nexus of climate change and food systems to shorten the link between research and action. Learn more about the alliance by clicking the link below:
Alliance for Food and Climate Systems Transformation
See below to view recordings of the dialogues.