Events
Toward sustainable seafood: The limits and possibilities of aquaculture certification
Wednesday, October 31st, 2018, 2:30 – 3:30 PM 66-360, MIT Map Organizer: J-WAFS
Join J-WAFS for a seminar series featuring J-WAFS' 2018 visiting scholar Md. Saidul Islam
Aquaculture is one of the fastest growing food systems in the world, with a $150 billion global industry employing over 30 million people. However, this so-called "blue revolution" brings with it several environmental and social problems, including water pollution, degradation of ecosystems, and violation of labor standards. How can systems and practices be improved, so that this "revolution" can become truly revolutionary?
Lecture by Md. Saidul Islam, Associate Professor, Department of Sociology, Nanyang Technological University Singapore.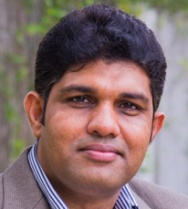 Md Saidul Islam is an associate professor of sociology and the coordinator of the Environment and Sustainability Research Cluster, School of Social Sciences (SSS) and Asian School of the Environment (ASE), Nanyang Technological University Singapore. He is a visiting scholar at the Abdul Latif Jameel Water and Food Systems Lab (J-WAFS) during the fall semester of 2018. Professor Islam is the author of Confronting the Blue Revolution: Industrial Aquaculture and Sustainability in the Global South (University of Toronto Press, 2014), among other publications addressing industrial aquaculture, the global agro-food system, climate change, food security, and environmental sustainability.
Learn more about the two additional events in the series: 
For more information about this event, contact Andi Sutton, J-WAFS communications and program manager, at arsutton@mit.edu 
Event Series Details
Toward sustainable seafood: The limits and possibilities of aquaculture certification
Wednesday, October 31st, 2:30 – 3:30 PM
Building 66 room 360, MIT campus
25 Ames Street
Cambridge, MA 02139
Urban food security in the age of vulnerability: The Singapore story
Wednesday, November 14th, 2:30 – 3:30 PM
Building 66 room 360, MIT campus
25 Ames Street
Cambridge, MA 02139
Climate change and food security in the Asia-Pacific: Response and resilience
Tuesday, December 4th, 2:30 – 3:30 PM
Building 66 room 360, MIT campus
25 Ames Street
Cambridge, MA 02139